A Library Burned to the Ground – Honoring the Life and Legacy of Monica K. Roberts- written by Sasha Alexander.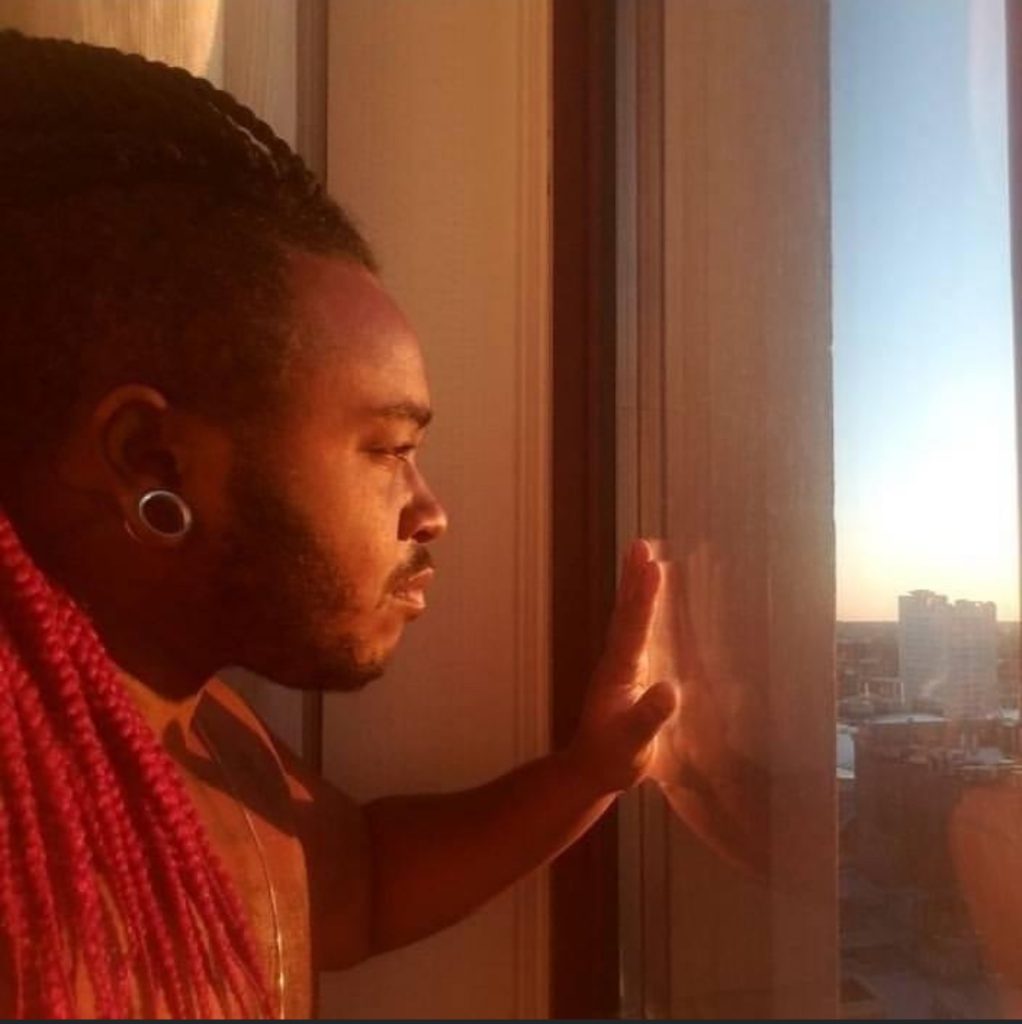 It has been just beyond 2 months since the news of Monica K. Roberts passing October 5th 2020. Knowing many who were close to her and loved her dearly I most of all express my condolences to her family, friends, loved ones, and community. I write this humbly and gratefully in honor of your legacy Monica, for all black trans media makers, storytellers, and journalists out there, for all the trans kids, elders, black trans folks; for everyone whose life you impacted and inspired.
Writing about and reporting on the murders of Black Trans folks specifically Black Trans Women was something Monica Roberts had done for decades. She covered a host of issues ranging from politics, sports, culture, and community from the perspective of a Black Trans Women, creating her blog in the early 2000's writing and reporting about us. Monica knew we were news, and as a trans person she knew that storytelling and media were powerful tools to share information where there was little coverage or harmful coverage at that, she was not just a keeper of these stories she was a steward. Her legacy as a Trans Griot was one of her many gifts she has left us. On October 9th just a few days after she passed the news broke, literally broke hearts, and I wrote these words and made the image below.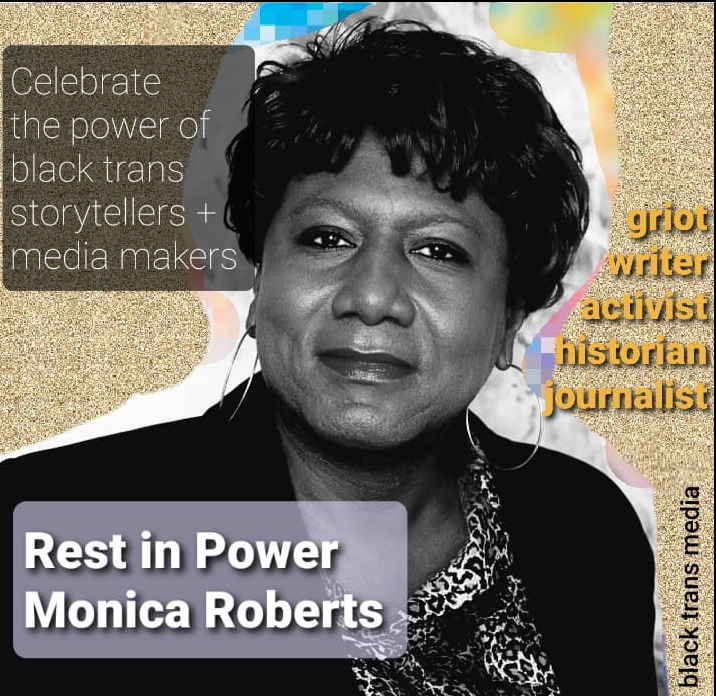 A history keeper, for the more than 10 years we knew each other I deeply respected your commitment to telling and recording the stories of our black trans community, or as you would say our peeps. She taught me so much about the power of black trans media though we differed politically I respected her deeply. She was a monumental person. My condolences to her people in H-Town, her BTAC fam, and Black TGNC folks across the world. Rest in Power Monica Roberts I went back to your blog to the first entries of 2006 where you said this below.
"I come from a long line of historians in my family. I'm also a voracious reader. I recalled something that I'd read about the griots of Western Africa, the storytellers who pass on the oral history and traditions of their people. Some griots can recite up to 500 years of their people's history from memory. It is said that when a Griot dies, a library has burned to the ground. They are mainly present in the Western African countries of Mali, Gambia, Senegal, and Guinea. There are also Griots among the Mande, Tulkuloor, Wolof and Serer peoples and Mauritanian Arabs.
A Griot is not just a human library, storyteller and historian. They are all of these things and more. Griots are a visible and tangible human link to the past. They are someone who not only could be touched, but could touch you with stories and facts that enlighten you and others about who you were and are as a person." – Monica K. Roberts TransGriot, 2006
(I don't wish for us to time travel back to that moment. And I've been thinking a lot about sankofa, the principal that we return to the past and bring forward what we need.)
Roughly a month after Monica's passing Skylar Heath, a 20-year-old Black trans woman was killed on Nov. 4 in Miami, Fl. Skylar was a young woman whose story Monica would have surely written about. She would have made sure to write about Skylar the same way she covered stories about countless other trans people. Skylar, Asia Jynae Foster, and Chae'Meshia Simm; young black trans women killed shortly after Monica's passing who it's up to us to write about and honor. Monica was a vanguard journalist for black trans communities and I'm not sure any of us can cover or write about her death in a way that truly captures the magnitude of her impact to write about others.
Monica's groundbreaking work informed policy, helped create guides on reporting and language regarding TGNC people in the media. Her work was critical to ensuring we are not misnamed or misgendered nor contextualized without humanity, dignity, and worth. Most certainly she inspired many black trans journalists, media makers, and writers who reflected on her impact like Imara Jones, Raquell Willis and her legacy can be felt through the countless other projects from Marsha's Plate Podcast, to Black Trans Media, to the Trans Journalist Association.
Dee Dee Watters is a living testament to Monica's work. She had picked up the ball and had been carrying it down the field for us, stewarding the deaths of black trans women in Houston and beyond; making funeral arrangements, organizing community memorials, covering and working with folks to cover costs. For her to also do this for her dear friend is tremendous, I know Monica would have been proud of the way she and so many others have made sure her and other trans lives are celebrated, honored, and remembered.
On Saturday October 24th the morning of Monica's funeral I worked with the Rev. Louis Mitchell on a program he and Valerie Spencer facilitated virtually in memory of Monica. There were hundreds of photos along with letters and videos submitted from dear friends of hers including Dawn Wilson, Marisa Richmond, and Kylar Broadus. With Covid safety many of us could not be there in person for her service, there was a livestream of the proceedings and those who did travel shared photos online. Through a storm of community emotion and grief somehow Dee Dee made sure it went off without a hitch online and in person, a horse drawn carriage, white doves, city proclamations.
A month after Monica passed I kept thinking about what she would have written about herself and how it's up to us to carry that forward. I imagine she would have most certainly asked us to vote, update us on local sports and politics, her blog would have covered the Presidential Election, and most definitely the newly elected Trans senators, representatives, and city council. September 15th she wrote a post wishing Sarah McBride luck in her election as a Delaware Senator, who became the first trans person to win a state senate legislative primary election. I believe she would have furiously covered the recent news about the UK's court rulings regarding trans kids. Monica would have definitely had choice words for the political moment we are currently navigating.
Monica offered so much in her lifetime, and in her legacy. Sifting through her old posts there are so many gems. Our TransGriot left us a road map for those who want to continue to honor legacy, she was clear in what that meant to her. In a post TDOR 2017 blog post titled "A Ten Point TDOR Post Plan" she lays out 10 steps for us to follow. The first she named as "Collective Community Self Defense', the Third 'continuing the ongoing education of the moveable middle toward unconditional acceptance of our humanity as trans people."
I include here just the last one to encourage us all to go back to TransGriot again and again to her words.. "Ten is love one another. We trans folks are all we've got in many cases." – https://transgriot.blogspot.com/2017/11/a-ten-point-post-tdor-plan.html
Sasha Alexander is a non binary Black Trans organizer, storyteller, and media maker. They are the Founder and Co-Director of Black Trans Media. Sasha uses the pronouns she/he/they and insists you mix it up or use their name.