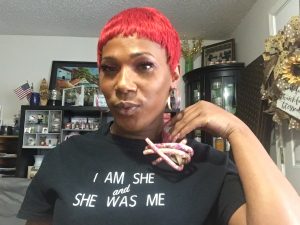 Monica Roberts, the way I will miss you, words just sadly can't explain! I do believe she's proud. I can hear her saying it was great and "I totally didn't expect you to perform A mother's story but I knew you wouldn't let me down"
I met Monica attending an event here in Houston, God knows when that was, sometime nearly a decade ago but Monica would definitely remember. It's ironically one of my fondest memories of her. She was going in on some wyt trans women which I found out later was due to Monica being taken off the list of speakers for the TDOR (Transgender Day Of Remembrance) event held by a local organization for being a little late. Monica was upset because she was the only Black trans speaker in the list and although she didn't get there at the time requested for speakers, she arrived 15 minutes prior to the event starting and was told she was taken off the list. Monica was on public transportation, which back then was rarely on time. She arrived 15 minutes after the time they asked speakers to show up but it was still 15 minutes before the event started. The list that year (as we see nearly every year) was largely names of Black and Latina trans women however the event had no representation of either on the speakers list. This memory is so fond to me because I saw Monica going off and was ready to fight. The fight I saw in her on that day was like a lighter to my cigarette. After giving her a ride home, she told me what happened. That following year, I hosted my first TDOR at St. Luke's Episcopal and had been holding one every year since. Monica only missed one year, due to her obligation to attend a paid gig.
I never realized how important Monica's support, love, and loyalty were to me. The last time I saw her, I brought her some Gatorade and vanilla Bluebell ice cream (this was her favorite flavor). I talked to her the next day, and she was gone a few hours later. We'd always say later in the form of I love you when getting off the phone, but for some reason (after our last conversation) I said I love you… and thought nothing. I wish I could've told her how much I appreciated her loyalty and support. I wish I would've paid more attention when she would talk about politics and other things. I wish she would've told me Happy Birthday because since that day, none of my birthdays will ever be the same…
I thought I'd be better by now, but I'm totally not. Often when I visit you, I wish we could trade places. In the back of my mind I hear you saying, "well we know that's not gonna happen", followed by your laugh. Give my mom a hug for me, tell all the trans family hello and I thank y'all for watching over me. Until we meet again.