Was chuckling to myself when I saw the story in the UK based Pink News about the right wing hate group One Million Moms (actually 3500 men) who are trying to start another failed boycott against a retailer they accuse of being too trans friendly.
H&M has a new 'She's a Lady' ad campaign featuring several diverse women of all ages and body types modeling different styles of clothing.
One of the women involved in this campaign is female Muay Thai boxing champion Fatima Pinto, who One Million Haters transphobically misgendered and attacked.
But while I'm chuckling about the loud and wrong One Million Haters reactions, this is in reality a serious issue that I, other trans people and our allies have been talking about for some time in terms of trans misogyny not just affecting trans women.
The One Milling Haters peeps were so busy focusing their faux faith based transphobic ire on Ms. Pinto that they completely missed model Hari Nef, who was also featured in the ad.
Far too often the unwoman meme is not only aimed at transgender women, bit it is aimed at cisgender women, and especially cisgender women of color like First Lady Michelle Obama, Serena Williams to demonize any woman who doesn't fit the stereotypical feminine societal mold
This also points to something else I've talked about on this blog and elsewhere in terms of not only the beauty of non-white women being demonized. it also plays into for trans women the far too often a stereotypical and media perpetuated 'that's a man' assumption of what a trans woman is or isn't supposed to look like.
Let's start with the Trans 101 basic tenet that trans women are women. Once we start taking estrogen, doesn't take us long to look the part. Some of us when we start hormone replacement therapy also got the genetic luck of the draw and morphed into very attractive and beautiful women.
That reality makes some of us who did get the genetic luck of the draw and are model height to get the call from the fashion world to strut the fashion runways of New York, London, Paris Milan and Tokyo.
And FYI One Million Haters and everyone who shares their less than enlightened views about girls like us, trans women walking runways, gracing the covers of magazines or participating in multimillion dollar ad campaigns is not a new phenomenon.
We've been doing so since the 1960's, and the long stylish line of trans models has continued into the 21st century.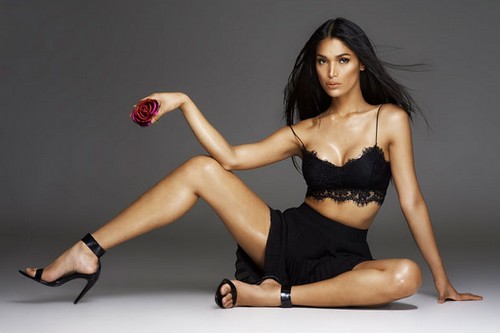 FYI since y'all are woefully ignorant about the topic, here are just a few glamorous examples of what trans feminine models actually look like.
Meet the lovely and fabulous Geena Rocero. And yes as someone who has met her, she's even more beautiful in real life.
And this is another trans model in Carmen Carrera
Another longtime trans model in Isis King
And just to rub it in some more, still another trans model in Andreja Pejic.
Noticing a pattern here? Trans women's body types and shapes are as varied as our cis feminine counterparts, and all are beautiful in their own way.
That's why the long stylish line of trans models has been in existence since the 1960's, and will continue no matter how much unhinged ranting One Million Haters does.