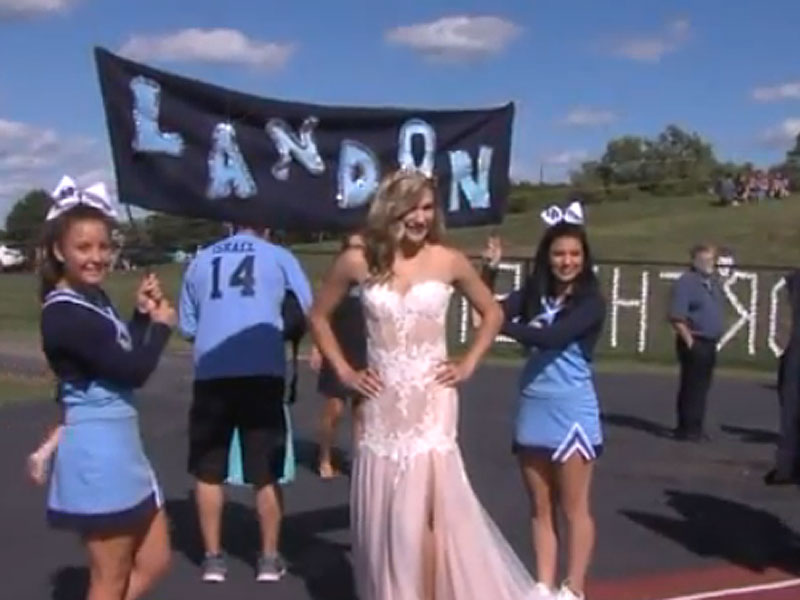 Since it's now October, it's about that time that high schools across the country in this 2016-17 school year have their homecoming games. The highlight of that week and at that halftime game is the announcement of the persons selected by a student body vote as homecoming queen or king . .
Was happy to see the historic win last school year of Landon Pattersonin Missouri as her school's and the state of Missouri's first ever trans feminine homecoming queen.
Hope Landon is thriving in her post high school life, and if you don't think that her winning homecoming queen was a BFD, keep reading.
It was obviously a BFD enough for the reprehensible Phelps Phamily to show up and picket at Landon's school
I'm thinking about it in the context of the post DOE/DOJ Dear Colleague letter that states that discrimination against trans students is prohibited under Title IX and eleven Republican controlled states immediately suing to keep having the ability to do precisely that.
While we in Trans World keep getting legal wins that are emphatically stating that discrimination against trans students violates Title IX, we're still going to have some transphobic bigots and fools that will try it.
That's why it will be even more important to see a trans masculine and trans feminine student walking away with their schools homecoming king or queen crown this year and I'm wondering where will this particular trans history will be made next?
It's not only a milestone for that particular student that gets selected by their classmates for that honor, it also signals trans human rights progress to the wider world.
It also signals to the transgender student that their fellow students recognize and respect them for who they are.