The second set of Democratic presidential debates will kick off tonight and Wednesday night in Detroit's historic FOX Theater on CNN. They will be moderated by CNN's Don Lemon, Dana Bash, and Jake Tapper.
A draw that CNN televised live on July 18 set the candidate lineups for both nights.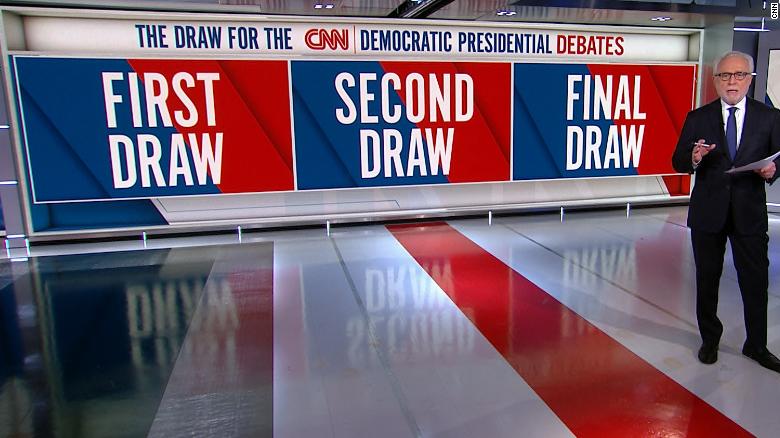 The first of the three draws divided the bottom ten candidates between both nights. The second draw divided the middle six candidates, and the final draw the top four contenders for the Democratic nomination.
The ten candidates tangling with each other on July 30 are Montana Gov Steve Bullock, South Bend, IN mayor Pete Buttigieg, former Maryland Rep John Delaney, former Colorado Gov. John Hickenlooper, Sen Amy Klobuchar (MN), former Texas Rep Beto O'Rourke, Rep Tim Ryan (OH), Sen. Bernie Sanders (VT), Sen Elizabeth Warren (MA), and author Marianne Williamson.
The ten candidates who will take the stage on July 31 will be Sen Michael Bennet (CO), former Vice President Joe Biden, Sen. Cory Booker (NJ), former HUD Secretary Julian Castro, New York mayor Bill de Blasio, Rep Tulsi Gabbard (HI), Sen Kirsten Gillibrand (NY), former Washington Gov Jay Inslee, Sen Kamala Harris (CA) and entrepreneur Andrew Yang
Now that we know which candidates will be debating each other on which night, the question now becomes what topics will are brought up for discussion by the CNN moderators?
Of concern to trans Americans is will trans Americans be discussed on either debate night in Detroit like we were by Sen Booker and Secretary Castro during the first debate in Miami.
We in Trans World certainly hope that what is happening to the trans community gets discussed again, but are cognizant of the fact that the topics that get discussed tonight and tomorrow night will depend in large part on the news cycle and what the moderators choose to focus on.
Either way, both nights are shaping up to be must see TV for political junkies like me and everyone interested in who will emerge from this crowded field to become the 2020 Democratic nominee.