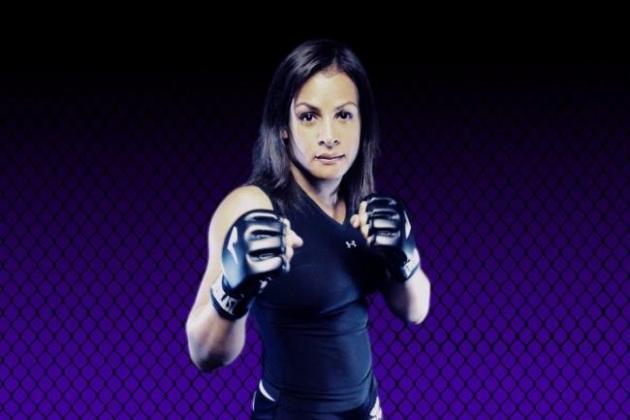 One of the cool things to watch over the past year has been the rise of Fallon Fox in the women's MMA ranks.
While some peeps have been transphobically hating on her like Ronda Rousey, Tamikka Brents, Charmaine Tweet and Matt Mitrione, others have been supportive like Liz Carmouche.
When she came out as trans last year, it appears that the many of the promoters of the larger MMA circuits like UFC, Bellator, Invicta and World Series of Fighting smugly assumed that at age 37, Fox didn't have the skills to compete at that level or she'd fight a few times, then retire.
After the upset loss to Ashlee Evans-Smith saddled Fox with a 3-1 record, they were probably feeling quite secure in that assessment.
But since that loss, Fox has reeled off two impressive wins to bump her record to 5-1, with the most recent one (and most satisfying so far to me) being a microwaved demolition of signed InvictFC fighter Tamikka Brents.
As Fallon continues to win, it's fairly obvious that Ms. Fox has skills and is definitely head and shoulders above WMMA regional ranks littered with female fighters with .500 records or less.
So why hasn't one of the Big Four MMA orgs signed her? Because they are in a seriously awkward spot at this pointand don't know what to do about it.
And if you're trying to prove that WMMA is a credible sport, sooner or later the female fighters that are ducking her will have to fight her to enhance their own credibility and visibility to the Big Four MMA organizations..
The Big Four MMA orgs will feel the pressure to sign her increase, especially from the LGBT community as it becomes obvious that Fox is one of the best fighters out there and she is being
denied an opportunity to pursue it at the highest levels because of transphobia.
It's also hypocritical that you have a WMMA fighter in Jessica Rakoczy with a 1-4 record signed in the UFC and Fox has yet to get a call from the Big Four MMA orgs despite her demonstrated abilities.
If the trans and SGL community comes to the ossifying impression that Fox is being denied a place in their organizations because she's a transgender female, that's scrutiny the MMA will rue the day they invited upon themselves It will cause GLBT advocacy organizations to review the previous grossly transphobic comments aimed at Fox and the negative history that the sport has in general with the LGBT community.
So what are you going to do UFC, Bellator, Invicta and World Series of Fighting? The ball is clearly in your court. You can either sign a talented fighter, or by your inaction and stonewalling, invite more scrutiny upon you that you're not doing so because of transphobia