Houston municipal elections are officially via the city charter nonpartisan, but a little digging into voter records, Texas Ethics Commission (TEC) and Federal Election Commission (FEC) campaign donations records will reveal despite any spin attempts whether you're really a Republican or Democrat.
Because of the blue tsunami last year that flipped Harris County to Democratic control and the desperation of the Harris County Republicans to capture a Houston mayor's chair they haven't held in over 30 years, they are trying to peddle the fiction, especially in Houston's Black community, that mayoral candidates Tony Buzbee and Bill King are Democrats.
Um naw players, not on my H-town watch. Buzbee and King are undeniably Republicans. Don't want any Republicans in my mayor's chair.
Thanks to Melody Tan and Erik Manning, I have the receipts.
Let's start with Buzbee. That's him on the right in this pic at the top of the post with Rick Perry and Lugenprasident at Buzbee's River Oaks mansion.
Um no. He not only held a fundraiser for Trump, he has according to this FEC filing, made multiple donations to the Republican National Committee and Trump,
Buzbee has also given money to the state Republican parties of AR, CT, LA, MS,NJ, NY, TN, VA, WV and WY.
Nope, #NeverBuzbee You were canceled when you donated money to Trump.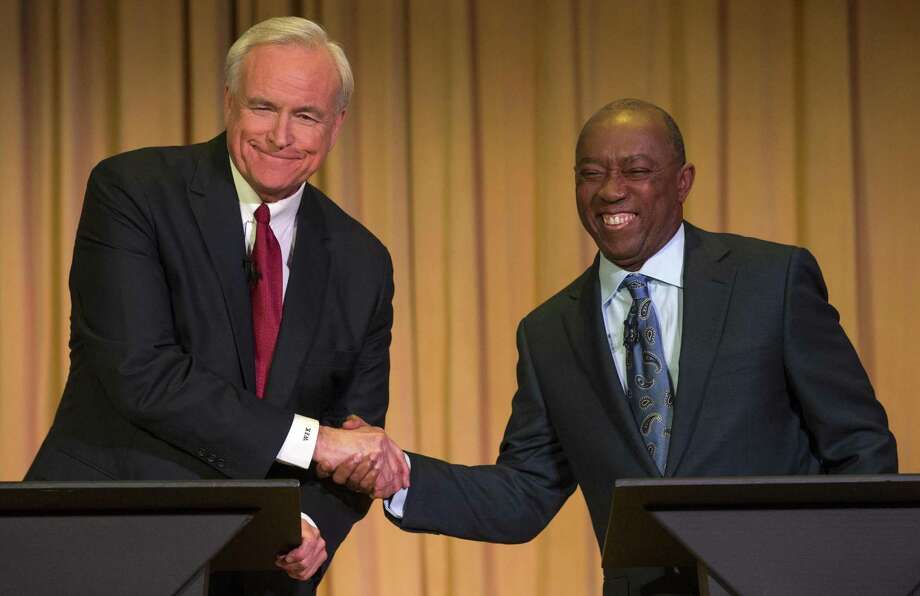 Now for Bill King, the former mayor of the suburban community of Kemah who narrowly lost to Sylvester Turner in 2015. He still wants to take his act to the Horseshoe.
Um. no boo boo. Not on my watch Democrat my azz. Peddle that lie to someone that isn't paying attention. #NeverKing
Note King's donation record. Rep. Jarvis Johnson, the person who succeeded Mayor Sylvester Turner in HD 136 is the only Democrat on this donation list. The rest of his cash is going to Republican leaning groups like the Houston Realty Business Coalition, the Kingwood Republican Women's Club, The Spring Branch Republicans, state Sen. Paul Bettencourt's (R) problematic behind, and the Coalition For a Greater Houston.
And yes, King since 2006 has been voting (when he has cast a ballot ) in the Republican primary.
So naw Harris County Republican Party and all you Houston activists mad at Mayor Turner to the point you're considering spitefully voting for these two. The Houston mayor's chair is not something to be played with because of its immense power in our strong mayor form of governance.
We know the Harris County GOP is big mad about being swept out of power, so they are trying to push that 'Buzbee and King are Democrats' lie to siphon enough votes from Turner to force a runoff.
Frankly, I don't see a compelling reason why Mayor Turner should be kicked out of office after only one term. Neither am I inclined to fire only the second African-American and first Black Houstonian to have the job without an exceptional candidate to replace him.
I'm also not happy about the dog whistle racism that King has deployed in his second campaign implying there is 'corruption' at City Hall, or the dog whistle racism being aimed at him by some of his detractors.
As Trump has overwhelmingly proved, being a businessman doesn't mean you have the ability to handle the demands of being mayor of the soon to be third largest city in the US. If these two are trying to cover up the fact they are proud Republicans, what else are they covering up?
Because of the charter change, the mayor no longer serves just a two year term. If we don't handle our electoral business, we're stuck with that person in our mayor's chair for four years.
So we must choose wisely on November 5.
But at least you're going into the voting booth when early voting starts on October 21 armed with the knowledge that Buzbee and King are not Democrats, but undeniable Republicans.
TransGriot Note: Lugenprasident = lying president in German