'Nobody outside Beltway 8, including college football pundits is giving the number #15 ranked Cougars a chance against a team that was a semifinalist in last year's College Football Playoff and is considered a favorite for the Big XII title. But then again, none of the college football pundits thought the 13-1 Cougars could hang with Florida State in the Peach Bowl either.'
-TransGriot, September 3, 2016
Can I call it or what?
Once again, the University of Houston Cougars have shocked the college football world and beaten a top ranked football program nobody thought they were capable of beating. They were a 13 point underdog going into this game, and this time it was number 3 ranked Oklahoma that experienced the H-Town Takeover in full effect at a sold out NRG Stadium.
UH earned their first win ever against the Sooners and their first win over a Top-3 ranked program since 1984 (they beat the hell out of the Texas Longhorns,snicker snicker) when they smashed the Big XII preseason favorites 33-23 with a national television audience looking on.
With UH days away from making their formal presentation to join the Big XII Conference, it couldn't come at a better time as far as UH alums are concerned.The Sooners came out of the gate on fire, going 79 yards in just 8 plays, capped by a 32 yard Joe Mixon TD run on their opening possession. The Coogs answered with a 10 play 71 yard drive of their own that resulted in the first of Ty Cummings' four first half field goals from 35 yard out to cut the OU lead to 7-3.
The Cougar defense then began to show signs of slowing down the potent OU offense, holding them to a 25 yard Austin Seibert field goal to extend the OU lead to 10-3 after the first quarter,
The Cougars began to assert themselves in the second quarter, and after a 14 play 84 yard drive that chewed up 6:16, added another Cummings field goal from 26 yard out to cut the deficit to 10-6.
The Coogs took their first lead after a 7 play 75 yard drive capped off by a Greg Ward, Jr 15 yard touchdown to a wide open Duke Catalon to go up 13-10. But that lead evaporated after Baker Mayfield tossed a 64 bomb to Mark Andrews to put the Sooners back up 17-13.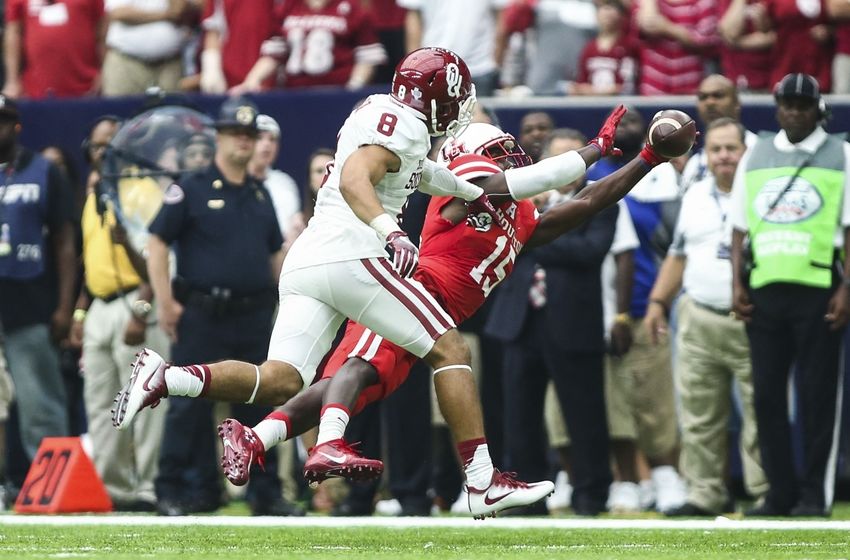 The undaunted Cougars went back to work chipping away at that Oklahoma lead, getting a 33 yard field goal from Cummings to narrow the deficit to 17-16, and aided by an amazing catch by Linell Bonner III, took the lead on Austin Cummings fourth field goal from 47 yards out with :03 left in the half to go up at the half 19-17.
The backbreaking play came in the third quarter after Oklahoma set up to kick a 53 yard field goal to take the lead, but it fell short and was returned for a kick six by Brandon Wilson to give the Coogs a 26-17 lead they would never relinquish.
Mayfield tried to bring his team back but the UH defense continued their pattern of the last few years of forcing turnovers, and forced a huge fumble they converted into another touchdown to got up 33-17.
Oklahoma added a touchdown late after UH lost a fumble on the goal line enroute to another score that would have put them up 40-17, but instead they have to be satisfied with a huge 33-23 win.
It marked the first time in UH program history they have beaten Top 5 programs back to back, and the massive win puts them solidly in the discussion for a CFA playoff spot assuming they run the table the rest of the way.
But the most important stat in the game is that the UH Cougars are 1-0.