When we get to cast ballots in the general election this November, Texas Democrats are only nine tantalizing flipped seats away from gaining control of the Texas House for the first time since 2002 .
That would be huge as we go into a 2021 legislative session that will have redistricting on the agenda.
One of the things that would also be huge is if that new class of 2021 legislators had trans Texans as part of it.
While we have actually had trans Texans serve in public office, we unfortunately have never had a trans Texan be elected to any public office in the Lone Star State.
Phyllis Frye has been serving since 2010 as a Houston municipal judge, and was appointed to the position by then Mayor Annise Parker
Jess Herbst served as mayor of New Hope, TX for two years, She was serving on city council as the mayor pro tem and took over after the mayor's May 2016 death. She unfortunately lost her bid to win a full term of her own in 2018.
In 2018 Finn Jones advanced out of an uncontested Democratic primary to take on one of the Texas trans community's biggest haters in incumbent District 94 Rep Tony Tinderholt.(R). Jones made history as the first out Texas trans person to make it to a legislative general election race, and the first out trans masculine Texans to win a party primary .
Unfortunately, even in a great election year for Texas Democrats, we couldn't get that electoral breakthrough we needed. Tinderholt was one of the few North Texas House Republicans to survive the Blue Tsunami and win reelection
So while we trans Texans are still looking for someone to make that Lone Star State history and get elected, history was made on March 3 when two trans feminine Texans won their Democratic primary races to make it to the November 2020 ballot.
In the Panhandle, Addison Perry Franks secured her spot in the District 83 general election by beating James Barrick by a 54%-46% margin in the Democratic Primary.
Perry-Franks will take on incumbent Rep Dustin Barrows (R) in the fall and attempt to flip the Lubbock area seat blue. . .
Meanwhile in Central Texas' House District 17, Madeline Eden was advancing to the general election against incumbent Rep. Jon Cyrier (R), who was also unopposed in the GOP primary. Cyrier has held this Austin metro area seat since 2015.
Eden is the current chair of the Bastrop County Stonewall Democrats and a former Democratic Party precinct chair. She has also been endorsed by the Victory Fund.
So here;'s hoping that Eden flips that Centex seat.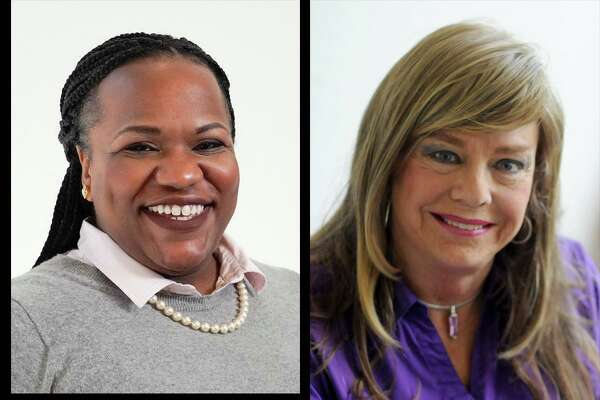 And we could have a third trans person running for the Texas Lege if perennial candidate Jenifer Rene Pool wins the Texas House District 138 Democratic runoff for this Houston area seat against Akilah Bacy.
This was the seat that former Rep Dwayne Bohac (R) won by a razor thin 47 votes over Adam Milasincic in 2018, and Bohac retired when the 2019 session concluded. This seat is seen as a prime pickup opportunity for Texas Democrats, and its a must get.
The winner in that May 22 runoff will take on Republican candidate Lacey Hull in the general.
So will 2020 finally be the year that Texas trans people get a trans person elected to The Lege?
We'll find out in November