It seems like it was just months ago we partying like it was 1999 as we welcomed 2018. Now we're four weeks from ending this year and moving on to 2019.
It also seems to me as you get older, time moves faster. New Year's Eve also doesn't feel the same to me ever since Dick Clark passed away.
Oh well, enough jibber jabber. Time to get to this week's person or persons who earned this week's TransGriot Shut Up Fool Award.
While there were some worthy nominees this week like Agent Orange, Sarah Suckabee Sanders, Paul Ryan, Ivanka Trump, Andrea Long Chu, Paul Manafort and Kevin Hart, once again for the second straight week, just going to get right to calling out this week's fool,
This week's loser winner is FOX Noise spokesbigot Tomi Lahren.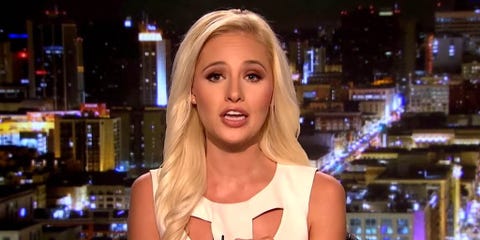 Bigot Barbie couldn't stop herself from letting something asinine slide from that pretty mouth when she shared in the wake of the reprehensible teargassing of asylum seekers on the Mexican border that it 'made her Thanksgiving weekend.'
Really, rhymes with witch? Was your Thanksgiving so jacked up that you considered that odious event to be the highlight of your holiday weekend?
You're definitely a top contender for the 2018 TransGriot Shut Up Fool of the Year Award when I announce it on New Year's Eve.
Let me just end this right now. Tomi Lahren, Shut Up Fool!