The 2015 NFL regular season has concluded and it's now playoff time. All is right in my prognostication world as I have captured the 2015 TransGriot NFL regular season prognostication title, and now I will attempt to prove to 'errbody' that it wasn't a fluke.
As a reminder, here's who I thought would be the AFC and NFC champs in Super Bowl 50.
'As to which teams I'm predicting will be in Super Bowl 50 in San Francisco, I like New England and Seattle. We'll see how accurate that prediction is in February.'
So far so good. While the Patriots ended up as the AFC number 2 seed with a bye into the Divisional Round, the Seahawks, if they are going to make it to their third straight Super Bowl, will have to do so from the number 6 seed and win three straight NFC playoff road games to do so.
So let's get to the Wild Card Weekend predictions.
AFC Wild Card Round Saturday January 9, 2016
#5 Kansas City (11-5) at #4 Houston Texans (9-7)
This is a rematch of the season opener at NRG Stadium in which the Chiefs sprinted out to a 27-9 lead before the Texans comeback led by Ryan Mallett fell short in a 27-20 loss
Since that Week One clash, both teams are not only light years different from the teams that met back in September, they are riding win streaks. The Chiefs closed out the season with 10 straight wins to punch their playoff tickets after sliding to 1-5, and the Texans overcame a 3-5 start and using four quarterbacks to finish the season 6-2 and capture their third AFC South title in five years thanks to the having the number 3 ranked defense in the NFL and a certain NFL sack leader named Justin James Watt on their side.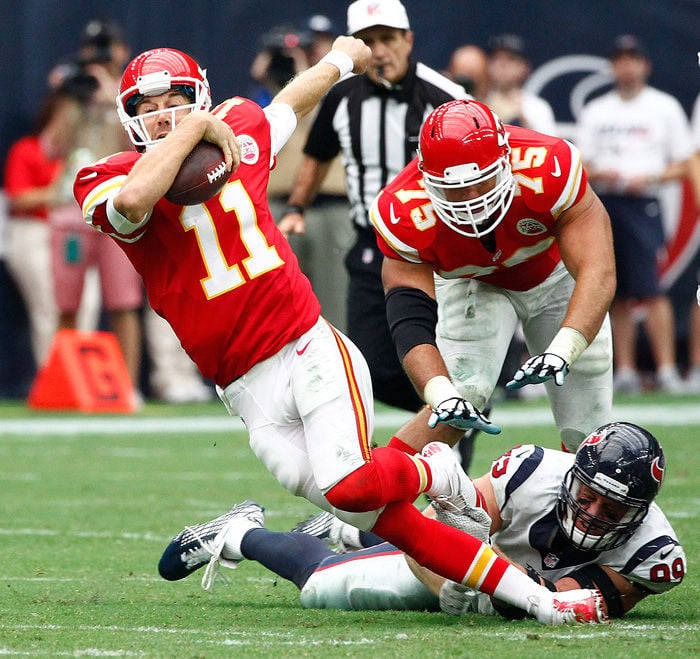 But the Chiefs are no slouches on defense either, ranking seventh in the league defensively.
But they have also lost eight straight playoff games, and the last time they won one was in 1993 in the Astrodome with Joe Montana as their quarterback against an Oilers team that won 12 straight games after an 0-4 start to win the AFC Central Division. That shocking playoff loss set in motion the events that led to them moving to Nashville.
The Texans have never lost a wild card round game, beating the Bengals twice in front of raucous home crowds, so somebody's playoff streak is about to die.
My heart is with my hometown NFL team, my head says the Chiefs will win because they have a starting QB in Alex Smith, the Texans don't unless Brian Hoyer plays his A game, and they lost their All-Pro Duane Brown off the offensive line who usually gets the assignment of neutralizing the opposition's best pass rusher.
But won't be too upset if I get this one wrong.
#6 Pittsburgh (10-6) vs #3 Cincinnati (12-4)
The Steelers are in thanks to the Jets losing, and the Bengals won the AFC North for the second straight year thanks to their franchise best ever 8-0 start. The teams split the season series, with the Bengals taking a 16-10 come from behind win at Heinz Field to go 7-0.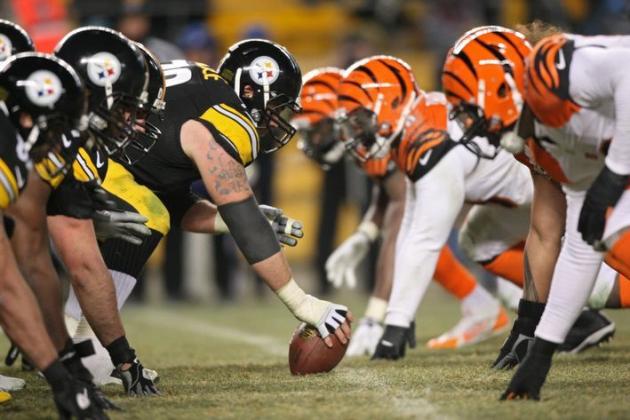 The Steelers returned the favor in Week 14, spanking the Bengals 33-20 at Paul Brown Stadium in which the Bengals lost QB Andy Dalton to a thumb injury.
Bit this time these AFC North division rivals are playing for a spot in the Divisional round of the playoffs and the Bengals aren't playing the Texans. The Steelers also have problems in their secondary that the Bengals deep passing game will exploit even if the QB throwing those deep balls is AJ McCarron.
Bengals to move on to the next round.
NFC Wild Card Round January 10, 2016
#6 Seattle (10-6) vs #3 Minnesota (11-5)
The Seahawks bid for a NFC championship threepeat and a third consecutive trip to the Super Bowl starts at 12 noon in a frozen Minneapolis against the NFC North champs. The new US Bank domed stadium doesn't open until this summer, and this will be the first outdoor home playoff game for the Vikings since their quarterback's name was Fran Tarkenton.
The temp at kickoff is predicted to be at 1 degree F for the high. That last chilly Viking playoff game BTW, was a 24-13 victory in the NFC Championship game against the Los Angeles Rams in 12 degree F weather on December 26, 1976.
This chilly wildcard game is also a rematch of the Week 13 one played at TCF Bank Stadium in which the Seahawks came to town and ran over the Vikings 38-7 in 37 degree F weather.
And bad news for Vikings fans, Marshawn Lynch will be in the lineup for this playoff game,
But the Vikings have been exceeding expectations all season. Nobody expected them to win the NFC North and they did in a do or die Week 17 game against the hated Packers at Lambeau Field.
Nobody expected them to win at Lambeau Field or Soldier Field and they accomplished both this season on their way to their first NFC North title since 2012. Nobody expected Adrian Peterson to win the NFL rushing title this season but he did. Nobody is expecting Teddy Bridgewater to outduel Russell Wilson this Sunday either.
But tomorrow, their luck runs out, They say it hard to beat a team twice in the NFL, but the Seahawks are on a roll and will start their road to a third consecutive Super Bowl with a close win.
#5 Green Bay (10-6) at #4 Washington (9-7)
Somebody had to win the NFC East, and it was the NFL ballers from DC who went 6-3 after their bye week to capture the division and enter this clash at FedEx Field on a four game win streak.
The Packers head to our nation's capital for this wild card matchup limping in with a 4-6 record down the stretch and the Packer offense not being its usual prolific self, ranking 31st in the league. It's obvious the Packer offense REALLY misses Jordy Nelson.
It also isn't helping that the Green Bay offensive line is giving up sacks in bunches, which means that Aaron Rodgers isn't getting time to find any open receives, when they aren't being blanketed by opposing defenses.
I don't know of any NFL quarterback that can throw TD passes while seated on the bench or tasting turf. Meanwhile Washington is riding a four game winning streak coming into this game. They went 6-3 down the stretch after their bye week,
Gotta go with team that's on a roll, and that's Washington.