I rebounded from that subpar 7-9 Week 2 to have a great Week 3. While my 11-5 record was outstanding, unfortunately Eli matched me and Mike's 13-3 was even better.
So my initial advantage I grabbed with that outstanding Week 1 has shrunk to a one game lead. But this contest is never a sprint, it's a marathon with the strategy of having more good weeks than bad ones so you come out on top at the end of the season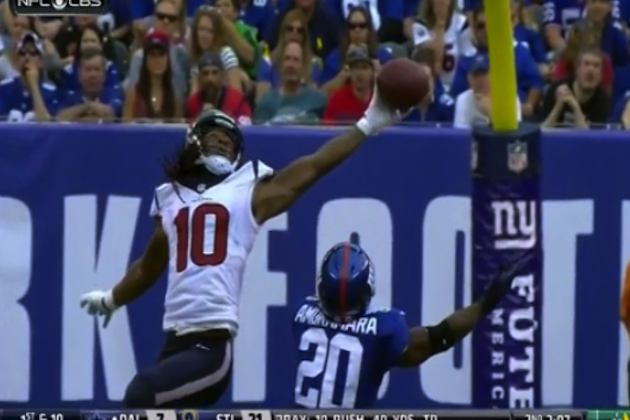 Speaking of coming out on top, that's not what happened for the Texans in New Jersey last weekend as Bad Ryan Fitzpatrick showed up at the worst time with Arian Foster on the bench nursing a sore hamstring. in their 30-17 loss
And I have another piece of advice for coach O'Brien. Throw Deandre Hopkins the ball more often.
Buffalo comes to NRG Stadium to play, and it is imperative the Texans get whatever ailed them in last week's game fixed fast. We Texans fans still remember them getting off to a 2-0 start and subsequently losing their next 14 games, so they better handle their business this week and especially next week at Jerryworld.
So let's get to the Week 4 NFL Picks. We have teams starting to go on their bye weeks, so only 13 games to pick. The Cardinals, Bengals, Browns, Broncos, Rams and Seahawks get to watch 'errbody' else play this week while the Raiders and Dolphins game will be played at Wembley Stadium in London.
My picks are in underlined bold print. Eli and Mike's picks will be here.
Week 3 Results
TransGriot 11-5
Eli 11-5
Mike. 13-3
2014 NFL Season Record
TransGriot 29-19
Eli 28-20
Mike 28-20
Thursday Night Game
NY Giants over Washington
Sunday Early Games
Houston over Buffalo
Green Bay over Chicago
Indianapolis over Tennessee
Pittsburgh over Tampa Bay
Baltimore over Carolina
Miami over Oakland (London)
Detroit over NY Jets
Sunday Afternoon Games
Atlanta over Minnesota
Philadelphia over San Francisco
San Diego over Jacksonville
Sunday Night Game
New Orleans over Dallas

Monday Night Game
New England over Kansas City