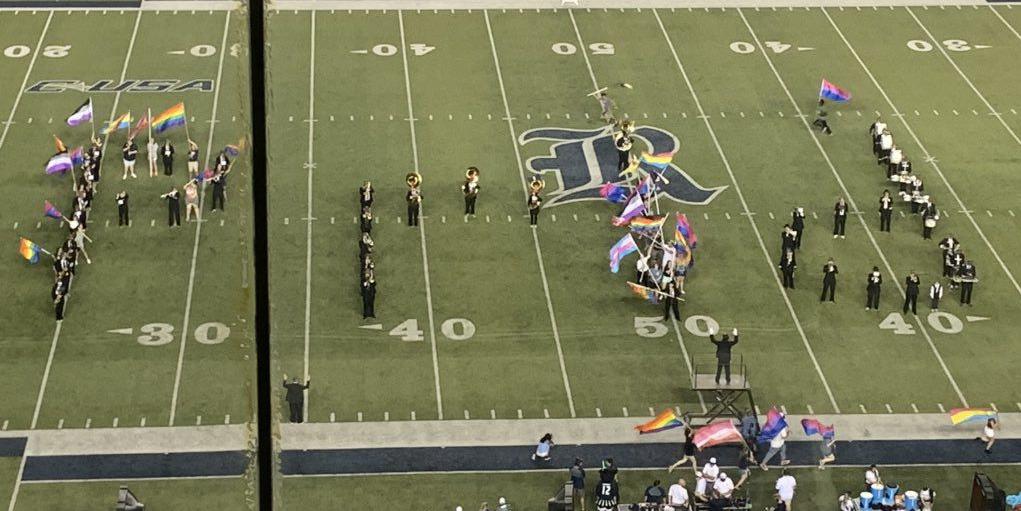 We are blessed to have some amazing college bands in the Houston area like TSU's Ocean of Soul, Prairie View A&M's Marching Storm, and UH's Spirit of Houston.
But none of them can match the legendary irreverence of Rice University's Marching Owl Band, or 'The MOB' as they are affectionately known.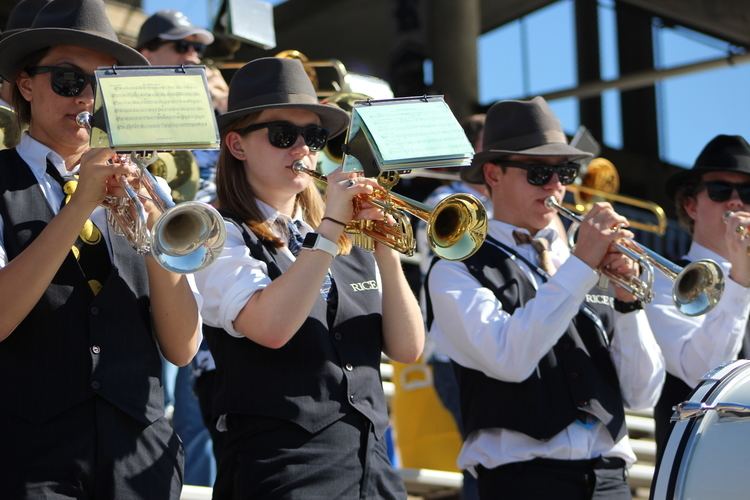 The MOB doesn't wear traditional band uniforms or march onto the field. They scatter into formations in their pinstriped three piece suits and fedora hats. They also live for irreverently poking fun at their game day rivals, politics, life on the Rice campus and themselves.
While those MOB shows can be good natured at times, there are other times the MOB drew ire from their targets because they struck a nerve. One memorable MOB show involved them during a November 17, 1973 game at Rice Stadium poking fun at cherished Texas A&M Aggie traditions.
The MOB Nazi goose stepped onto the field, mocked the Aggie War Hymn and the Corps of Cadets, and formed a fire hydrant while playing 'Oh Where Oh Where Has My Little Dog Gone' to mock the Aggie mascot Reveille
The Aggies were not amused, and losing the game to Rice didn't help matters The pissed off Aggie fans formed a mob of their own that trapped the embattled band in the stadium tunnel for several hours after the game. HPD had to come in to disperse the crowd as the band escaped the Aggie wrath in empty food trucks
In 2007, the MOB mocked the legal woes of the Texas Longhorns by playing the theme from Dragnet as three band members dressed as Longhorn players were chased by other band members carrying cardboard police cars.
In 2011, days before Texas A&M announced they were leaving the Big 12 for the SEC, during the Owls season opener against Texas in Austin, they formed the words '$EC' during their halftime show.
In 2016, when Baylor last made the trip to Houston to play the Owls, the MOB not only formed the roman numeral IX to refer to Title IX and the sexual assault scandal engulfing the school at the time, they formed a star and played 'Hit the Road Jack' to allude to the firing of former Baylor president Ken Starr
They whacked UT again this season when they spelled out '2.89', which is the cumulative GPA of the Texas Longhorn football team.
The MOB struck again last Saturday as they hosted Baylor at Rice Stadium. They took a jab at Baylor for denying a charter for an on campus LGBTQ group. They formed the word 'Pride' and played the Village People's YMCA as students ran onto the field carrying the various TBLGQ community group pride flags.
Aw yeah. Going to have to check out a Rice home game before the season is over to see what the MOB does next.