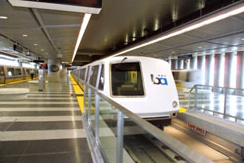 In what has become a familiar theme for me this year, once again I'm taking it to the sky and flying to another event.
This time it will be for the GLAAD Gala in San Francisco, and it will be the first time I've actually flown into SFO since 1999. I'm sure there will be many changes to the airport since the last time I flew into it was for the 1999 Creating Change Conference that was held in Oakland and the Air Marshal was a CAL employee.
I already know what one of the biggest changes from 1999 is, and that is BART rail service (hallelujah) to and from the airport.
It will be a short trip. I'm out here just long enough to enjoy Wednesday on the Left Coast and for the Thursday night gala, and return back to my H-town life on Friday morning.
In addition to the Thursday night gala, looking forward to seeing some of the San Francisco based TBLGQ family out here in the Bay Area and destroying some Ghirardelli's chocolate while I'm there
And oh yeah, rumor has it that I'm getting a Special Recognition Awardtomorrow night.