We're getting closer to the start of the 2016 Rio Olympic Games, and in a few hours, the USA women's soccer team will know who will be in their respective group during the Olympic women's tournament that starts August 3 and concludes August 19.
The FIFA number one ranked world champion USA women will be competing for their third consecutive Olympic title, and the road to the title match at Maracana Stadium begins with the draw scheduled to start at 8 AM CDT at that same venue..
The 12 women's teams will be split into three four nation groups, designated Groups E, F and G. The host Brazilians are in Group E. Depending on whether they get drawn into Group F or Group G, if it is Group t, they would play their first two group games in Sao Paulo and their third group match in either Salvador or Brasilia. If they end up in Group G, their first two group matches would be played in Belo Horizonte, with the third group match being played in either Manaus or Salvador.
They are also split into four pots,.based on the March 25 FIFA world rankings. The host nation and the top two FIFA world ranked teams are placed in Pot 1. Brazil as the hosts are already assigned to Group E in the A1 position, with the USA and Germany being the other teams assigned to Pot 1..
Pot 1: Brazil, USA Germany
Pot 2: France, Australia, Sweden
Pot 3: Canada, China PR, New Zealand
Pot 4: Colombia, South Africa, Zimbabwe
The draw is set up so that you don't have two teams from the same FIFA confederation playing each other in the group stage. That means that we wouldn't be placed in the same group with Canada because they are fellow CONCACAF members, the Germans wouldn't be placed in a group with France or Sweden, and Brazil wouldn't be in the same group with Colombia.
Once the groups are set, when the competition starts, the two best teams in each group and the two best third place finishers will advance to the knockout stages.
We'll see what the USA road to Maracana and a third consecutive Olympic gold looks like in a few hours. .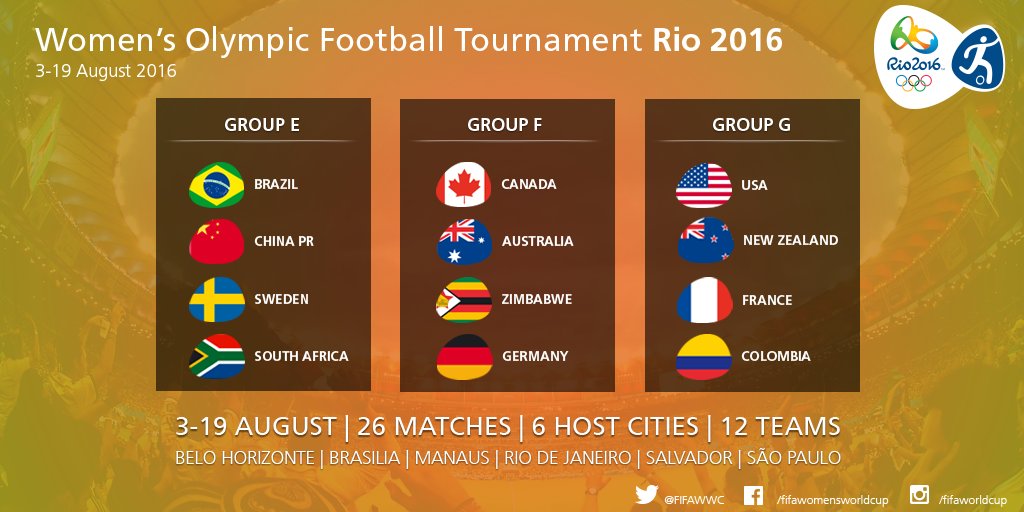 TransGriot Update: USA was drawn into Group G, and will be facing number 3 FIFA world ranked France, New Zealand and Colombia