Been saying for a while that trans people in the US needed to run for public office so that we help craft the laws that govern us.
Out trans cousins around the world are adopting the same attitude, and since 1999 in six nations, New Zealand (Georgina Beyer), Italy (Vladimir Luxuria), Uruguay (Michelle Suarez) , Poland (Anna Grodzka), Venezuela (Tamara Adrian) and the Philippines (Geraldine Roman), trans people have managed to get themselves elected to their national legislatures with others falling short of doing so.
Now comes word from Thailand that a trans person is aiming to lead their national government..
Before she transitioned, 52 year old Pauline Ngarmpring was a corporate CEO, parent and a sports promoter who was well known in the world of Thai soccer. Now she finds herself on the verge of being a potential trans political history maker, and she's eagerly accepting that challenge.
Ngarmpring wants to bring hope to the transgender and other marginalized communities of Thailand and pave the way for the next generation of trans and same gender loving politicians in the Land of Smiles.
She's fine if she doesn't win, because in her words, "she was the first one who dares enough to announce 'hey, we can do this'."
"We are not saying we are better than male or female," says Ngarmpring. "We are just want to say we are equal ."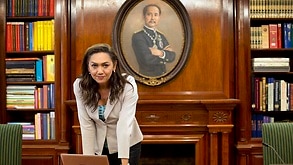 She is one of three candidates put forward by the Mahachon Party for prime minister in the upcoming March 24 general elections despite only having been a member of it since November
The Mahachon Party hopes its human rights platform that includes legalizing prostitution, will appeal to Thailand's large TBLGQ and sex worker population .
In those elections 200 of the 500 seats in the Thai House of Representatives are being contested by the party, and 20 of the candidates it has put forward are openly part of the TBLGQ community.
Ngarmpring since her transition three years ago has taken on the personal mission of educating Thai society. But there are people who view TBLGQ rights and her candidacy with skepticism.
Sometimes political fortune and history favors those who are bold enough to act. We'll see if Pauline Ngarmpring makes history next month.