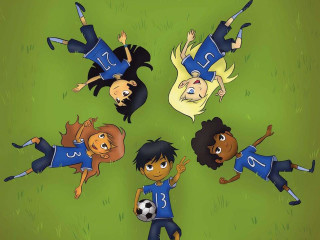 There's a reason why I'm constantly popping my collar about my Houston trans community, and it's because we have some amazing advocates in it, families that are a part of it, and allies supporting us.
One of those amazing people is Dr, Colt Keo-Meier. In addition to being a psychologist, he and his spouse Becca Keo-Meier are the founders of the Gender Infinity support group for our Houston area trans kids and their parents.
I've met some of those parents when I've been in town and had the opportunity to check out their meetings, and looking forward to the Gender Infinity conference next month at the University of Houston student center September 16-17 that also has a professional seminar track that offers CME's and CEU's.
You can add children's book author to the long list of things that Colt has done, and I'm pleased to announce that his children's book Stacey's Not A Girl is ready to be printed.
I had a chance to read an advance copy of it from his laptop when I ran into Colt during the recent Texas Transgender Nondiscrimination Summit in Killeen and loved it.
Stacey's Not A Girl has been in the works for a year, and is a compilation of stories from not only Colt's childhood, but three other Houston area trans masculine and gender nonconforming persons, their loved ones and families.
The book is focused on the title character Stacey, who has in this gender binary driven society never felt like a girl, and in the pages of this book undergoes an unforgettable gender journey with a diverse group of friends and supportive people.
The book is ready to be printed, but needs to raise $9,000 to get published, for promotion and marketing, and to get it in the hands of the public for purchase. They are almost halfway to their fundraising goal, and anything you can contribute o get to that goal will be definitely appreciated.
Here's the link to the Indiegogo fundraising page to help Stacey's Not A Girl make it to a bookshelf and the hands of a transgender child near you