One of the pleasures of my first ever Philadelphia Trans Health Conference experience was getting to see Janet Mock's keynote speech in which I got an unexpected shoutout during it.
But what is pissing me off is that in the wake of it, is Sharron Cooks dipping a nasty cup in the post PTHC Kool-Aid and engaging in Hate on Janet Mock Derangement Syndrome.
The Philadelphia based activist leveled the charge on her Facebook page that Janet was paid a five figure fee for her keynote speech at the just concluded conference. That didn't sound right, so I called Janet myself to get the lowdown.
Let's just say according to Janet, Ms. Cooks numbers are highly inflated by about $11,000. What Janet told me her compensation was didn't even come close to that.
PTHC is now the largest trans themed convention in the US and arguably the world. The room was overflowing when Janet spoke Thursday afternoon.
Let's shift the conversation in another direction for a moment . How many people who were on the fence about coming to PTHC 2014, made the decision to come because she was the keynote speaker?

Activists need to pay bills and replenish our bank accounts too, and because we do this work many of us will have a hard time getting 9 to 5 jobs. So if we have the ability to leverage our status as activists into speaking fees, what's the problem with that?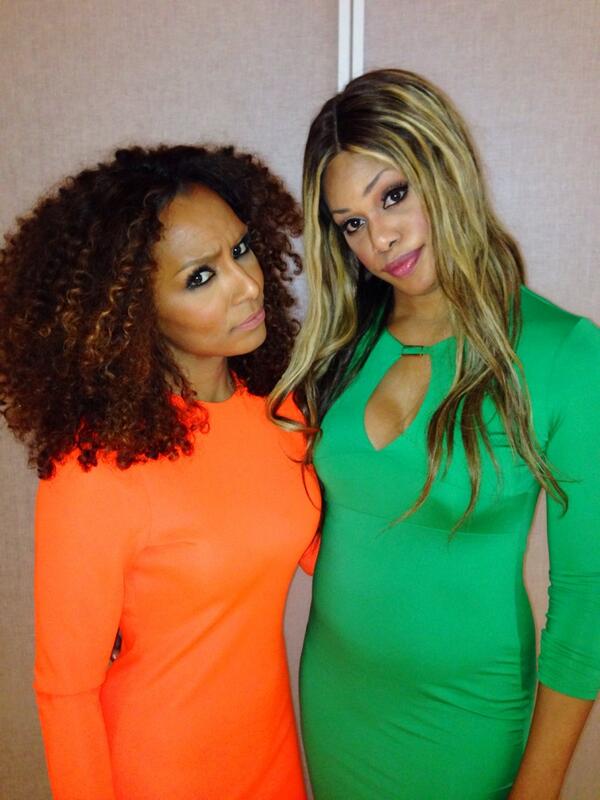 One of the things I have griped about for years on this blog is Black transpeople not being paid what we are worth or conference organizers trying to go cheap on our speaking fees when we are asked to keynote conferences or speak on the college circuit. It's even more galling when you have white transpeople who literally can make a living from doing so.

Dan Choi at one point reportedly wouldn't speak anywhere unless he got a minimum $10,000 fee plus first class air travel to wherever he was going. The Rev. Dr. ML King Jr in one year in 1960's dollars reportedly made $600,000 in speaking fees. The PTHC is a free conference, so where are the funds going to come from for Janet to get paid the $12K speaking fee that Ms. Cooks alleges happened?
My inquiring mind also wants to know what is Ms. Cooks' beef with Janet when she also adds the shady 'she's not an activist' line in her loud and wrong critique?
And my additional question to you Sharron, is what in your mind makes you think Janet ISN'T an activist?
Did you not consider that activism isn't just screaming and direct action protesting in the streets and it takes multiple forms?

Activism is changing hearts and minds of the fence sitters when it comes to our human rights struggle. It's pushing back against the falsehoods and lies of our opponents. It's lobbying legislators to pass trans inclusive legislation that helps ALL transpeople live quality lives. It's giving hope and a voice to people in this community who feel like they don't have one. It's also providing role models to our trans community that people can look up to and emulate.

All of us involved in trans community activism have certain missions and roles to fulfill and the skill sets necessary to complete that particular mission we gravitate to. And as Janet has stated in those multiple venues she has access to, there is room for all of us to shine as we do so.

Janet, because she worked in media as a former People.com editor, has a masters degree in journalism, and yes is attractive, is perfect for the role of being the trailblazing media savvy Black transwoman along with Laverne Cox and Tiq Milan for engaging with the media and telling our stories.
That is her activist lane, and we need to be doing whatever it takes as a community to support her in that role.

I'm curious to know Sharron, what exactly does 'NOT an Activist' mean? Does it mean you have to take a vow of poverty in order to become an activist? That only certain forms of activism like street protests are 'acceptable activism'? Does it mean that because I have an internationally read blog in TransGriot that has over 5.5 million hits and I have spent 8.5 years building it into a go to resource and voice for our community, I'm 'not an activist'?
If you tried to say that about me in Houston, elsewhere in this country and the trans community, you'd be laughed out of the room.
Who are the other people who meet your 'not an activist' criteria? Is Geena Rocero 'not an activist' because like Janet, she was an undisclosed trans woman and supermodel until recently, but since coming out has had the well received TED talk, lobbied in her birth nation for trans human rights friendly laws to be passed there, formed an international trans rights organization in GenderProud and was also in attendance at this year's PTHC?
Or is it envy that Janet was asked to keynote that PTHC speech in your hometown conference and not you?
Was it jealousy that Ms. Mock has been interviewed in multiple national media print outlets, cable news programs like the Melissa Harris-Perry Show and now has a New York Times bestselling book that people eagerly line up to get autographed that makes her in your mind 'not an activist'?
Frankly, I'm tired of the attacks that have been being aimed at Janet Mock and other Black transwomen including moi since February. They aren't acceptable when they come from jealous white transwomen and their clueless boyfriends. It's also an interesting things that make you go hmm moment to note that some of the white transwomen attacking Janet reside in your Philly backyard.
Those attacks are problematic and unacceptable when they come from our own people.
Sharron, you have every right to your opinion about who is and isn't an activist. But where I draw the line is when your opinion leads to false attacks on a sister doing the work and mimic 'Janet is not an activist' shade that has been thrown by jealous and borderline racist white transwomen.

And yes, I characterize a statement that Janet Mock is 'not an activist' as an attack on her.
Ms Cooks, It flies in the face of logic and reason and makes you look petty and vindictive when you claim Janet Mock is 'not an activist' when it is clear in her own way she is.
Guess you weren't paying attention when she used her media profile and blog to draw attention to the plight of transteen Jane Doe in Connecticut. Or you were probably too busy rolling your eyes to notice in that very PTHC room where she delivered her keynote and answered questions after concluding it, when she only had time for one more question, she insisted the last one come from a transperson of color. .

You stated on your Facebook page 'We cannot have unity without honesty'. Bearing false witness against someone and calling it the truth doesn't promote unity, either.
I met you during that same just concluded PTHC conference. I'd like to sit down and have a serious conversation with you one day and get to know you better. But one of the things I have very little tolerance for is a trans sister of color unjustly attacking another one. Seen too much of that divisive dynamic in white trans feminine world, and I refuse to let that dynamic even get a foothold in ours.
So whatever your issue is with Janet, take it off the Net, pick up the phone, call her and work it out. .