It's often said in sports circles that the best officials are ones whose names don't get in the headlines or don't make ESPN Sports Center for making bad calls.
Sarah Thomas' name is in the headlines again because she is a trailblazer, and that's always a good thing.
The Mississippi native and mother of three kids is in her fourth season as a NFL official, and is STILL making history. She is the first woman to not only officiate in an NFL preseason and regular season game, she is also the first to officiate in a regular season college game, a college bowl game, and the first to do so in a Big Ten Conference stadium.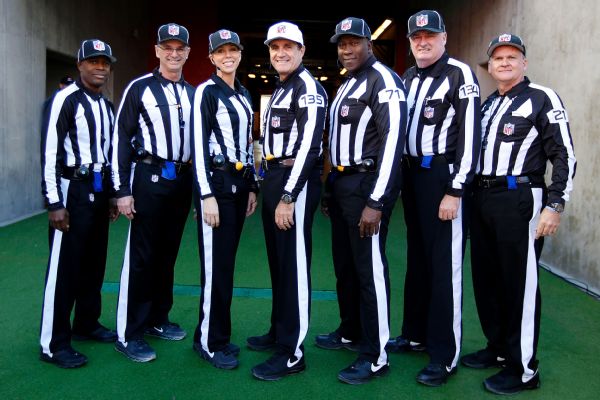 The other interesting note for me is that Thomas' first NFL game was right here in Houston. She was part of referee Pete Morelli's officiating crew working the September 13, 2015 game at NRG Stadium between the Kansas City Chiefs and my Texans.
When the playoff game between the Los Angeles Changers and New England Cheatriots Patriots kicks off this weekend at Gillette Stadium, Thomas will become the first woman to officiate an NFL playoff game.
If you're wondering how NFL referees get assigned to the high stakes playoff games, it is based on a merit system. Officials are individually graded by the league office for their work on every play during regular season games.
The system takes into account calls the make or don't make. There are also subjective elements that play a part in the evaluations such as communication, decisiveness, game management, rules knowledge and positioning on the field.
The scores are tabulated, and the officials are placed in three tiers. Tier I officials are eligible to work in the Super Bowl or the AFC and NFL conference championship games. Tier II officials are assigned to the wild card or divisional round playoff games
If you're in Tier III, you not only don't work any playoff games, you are probably looking at being placed on probation. Two consecutive years in Tier III leads to your dismissal from the NFL's officiating ranks.
We now know based on her assignment to this divisional round playoff game, that Sarah Thomas was in the Tier II group of officials for the 2018 NFL season. Hopefully one day we will see her make more history officiating a conference championship game or a Super Bowl.
It's a safe bet that will probably happen for her sooner rather than later.