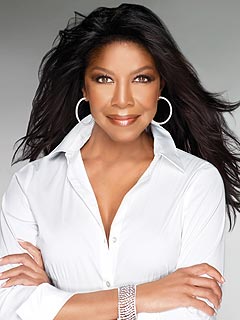 Another iconic singer from my childhood has gone. Was shocked to hear that iconic singer Natalie Cole joined the ancestors last night at age 65 die to persistent health complications.
I remember when I first heard her breakout hit from her debut gold album Inseparable. The Top Ten hit 'This Will Be' from that album was dominating my radio in May 1975 and I recall being surprised to hear that it was Nat King Cole's daughter singing it.
She was born on February 6, 1950 in Los Angeles to musical royalty. In addition to her father being one of the iconic singers of the post World War II era, her mother Maria sang with the Duke Ellington Orchestra. She was singing on her father's Christmas album at age 6 and began performing at age 11. But after her father's untimely death in 1965, she turned away from music and graduated with a degree in child psychology from the University of Massachusetts, Amherst in 1972.
Cole was soon after graduation singing in small clubs with her band Black Magic, but refused to do her father's material. She was discovered by Chicago based music producers Marvin Yancy and Chuck Jackson who wrote many of her early songs.
Cole would become an instant star, winning the first two of her nine career Grammys in 1976, when she won the Best New Artist Grammy and another one for Best R&B Vocal Performance Female for 'This Will Be'. Her subsequent albums Natalie (1976) and Unpredictable (1977) hit gold and platinum status respectively and she was given a star on the Hollywood Walk of Fame in 1979.
Serious drug addition problems derailed that early success to the point Cole entered rehab in 1983, but she reemerged in 1987 with the comeback album Everlasting. The success of that album, with three number one singles, set her up for the monster 1991 success of Unforgettable..With Love.
That album featured the technology assisted duet with her late father singing 'Unforgettable' that helped her sweep the three major Grammy categories in 1992 and sold seven million copies in the US.
She's had persistent health problems due to a kidney transplant and battling hepatitis C, and had canceled several December 2015 events due to illness.
But like her father, Natalie Cole will be an unforgettable music icon to me and all the people who loved her music, and may she rest in power and peace.