Four years ago today I was waking up at Ruby Corado's place in Washington DC. She and I were getting dressed in order to head to the White House to attend the White House Pride Reception that was starting at 2 PM EDT.
It was my fifth trip of the Obama Administration to the White House, but the first time I'd gotten an invite to be in the People's House for this event It was also extra special to be because I was getting to see a president shared my ethnic background while hanging out with many of the peeps in the movement.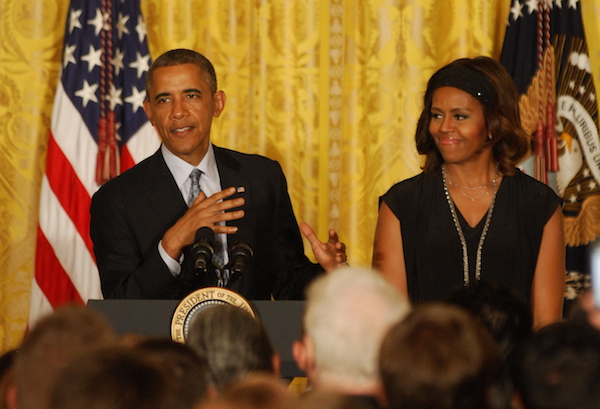 There was also this air of sadness because this was the last one that President Obama would be presiding over' It added to my thankfulness and excitement that after missing the previous seven receptions, I was going to be able to attend it for the first time.
The sadness was exacerbated by those of us in attendance realizing this could be the last one for a while if for some convoluted reason our Democratic nominee Hillary Clinton lost to that racist orange grand wizard the Republicans nominated.
While it was a concern, we focused on the excitement of that day. As Ruby and I got in line at the Southeast Entrance to clear security in order to enter the White House, the fun began of seeing who else had been invited from outside the beltway and made it to DC.
I could invite a person to attend with me as a plus one, and since most of the DC area trans and SGL folks were already covered along with much of my Houston activist fam who could go, I chose Catalina Velasquez to be that person.
She thanked me when she spotted me in that long line, and after I saw Catalina, started spotting other TBLGQ peeps I knew.. We were also fortunate that it wasn't a typical muggy Washington DC late spring day while we waited to enter the White House.
I spotted Phillipe Cunningham, and it was while we were talking he told me he was going to run (successfully) for the Minneapolis City Council.
I ran into Fiona Dawson, and we finalized our plans for driving up I-95 later that evening to the Philly Trans Health Conference that had started the same day. I had a panel I was participating on Day 2 of that conference organized by Brynn Tannehill, and was looking forward to seeing everyone I knew that was there.
While I was happy that the reception was happening on the first day of the PTHC, it still meant I was going to miss the first day of that conference. But the opportunity to do a 139 mile detour from Philly to the White House for this event was way more important.
After clearing the multiple layers of security, I entered the People's House to be greeted by the amazing sight of the original trans pride flag in a glass case, and took a pic of if to show to Monica Helms later.
The people sighting started exponentially increasing as we were escorted to the East Room for the reception. I ran into Danielle and Aisha Moodie-Mills. I started seeing various members of Congress including then House Minority Leader Nancy Pelosi
And while I was talking to Danielle and Aisha, somebody walked up behind me and tapped me on the shoulder. I turned around to discover it was Laverne Cox. We all started chatting, and that when I was spotted by Andrea Jenkins.
Andrea and I eventually stopped in front of Hillary Clinton's First Lady White House portrait to take a pic at the time in hopeful anticipation that she would be our next POTUS. I also said to her at the time, "I hope that you and Phillipe get to make history and serve on the Minneapolis City Council at the same time."
Hey, just call me Monidamus. I put it in the atmosphere, and it came true.
Let me put this in the atmosphere. . I hope trump loses in a landslide in November, the Republicans lose control of the US Senate, John Cornyn and Mitch McConnell are defeated, we get control of the Texas House, and the four Democrats women running for the Texas Supreme Court all win.
We also enjoyed the nice hot finger foods prepared for us like the mini Maryland crab cakes instead of the 'hamberders' Trump WH guests get before gathering in the East Room to see the man of the hour in President Barack Obama.
While we were disappointed that the First Lady couldn't be there, we were still happy to see the best president ever on trans issues (and LGB ones)
And just like that, once President Obama finished speaking, it was over, and it was time to depart the White House After chatting with a few more folks, I finally exited the White House with Ruby to finish packing up and getting ready to roll up I-95 north with Fiona.
We left the WH Pride reception that day hopeful that America was finally on the right track when it came to LGBTQ issues. Those of us who were part of the trans community had even more reason to be excited and hopeful because we knew for the first time since Christine Jorgensen stepped off the plane from Denmark, the federal government was on our side, and we had reasonable expectations that the forward trans rights progression would continue under a Clinton Administration.
We would find out 48 hours later just how much anti-TBLGQ hatred we would have to overcome in the United States to make this a more perfect union for our community when I was awakened in Philly that Sunday morning by Dionne Stallworth to the news of the Pulse mass shooting in Orlando. .
But that June 9, 2016 day was the start of an amazing weekend for me. A whirlwind weekend that took me from Houston to Washington DC, to Philly for the PTHC thanks to Fiona, the Philly Trans Health Conference, back to DC for Capital Pride, and home.
And today's Pride Reception anniversary reminded me how fast time not only flies, but how history and the course of it can change with one event.