If you early voted in Harris County today like I did, you were part of making some electoral history
We had 67, 471 people early vote across the county at the 40 early voting locations. That's the highest number we've ever had participate in early voting, with the previous record set in 2012 with 47,000 voters on the first day
I'm also hearing the same thing is happening in Travis (Austin), Bexar (San Antonio), El Paso and Dallas counties. Haven't heard yet if the same thing is happening in Tarrant County (Fort Worth)
The significance of that is that Harris County, the largest county in the state of Texas by population, provides 16% of the total in any statewide race.
FYI, the rest of the top five in order are Dallas, Tarrant, Bexar and Travis counties
If those early voters are predominately Democratic ones as my glance across my social media circles seems to be indicating, it's a great early sign for the Clinton campaign and Democrats across the state in down ballot races.
I hope the Clinton campaign will consider doing a quick campaign trip here to Houston, Dallas, Austin and San Antonio to really fire up the Democratic voters here and cement the fact this is a battleground state that has the power to finish off Trump's presidential campaign.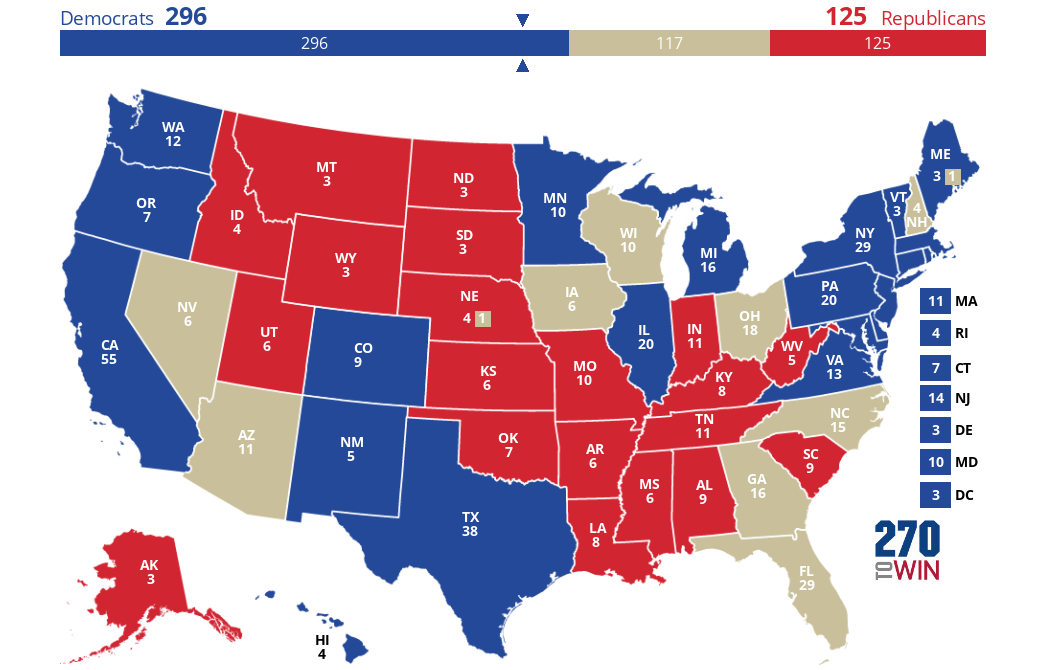 Click the map to create your own at 270toWin.com
Texas' 38 electoral votes make it the second largest electoral vote prize in this and any presidential election cycle after California and its massive 55 electoral votes.
Since 1980, Texas has acted like California does in terms of being the electoral vote base for Republican presidential election success. If Texas goes blue his year, without Texas in the Trump column to counteract California's 55 EV's going to Clinton, it would make it mathematically impossible for Trump to win the presidency, and Clinton would pass the magic 270 EV's she needs to become our 45th president before we even start adding other battleground states into the mix.
While this is good news so far, it only becomes a reality if you vote. If you haven't voted yet, please do so. When you do, vote the entire ballot from the top of the ticket to dog catcher
Early voting in Texas will run until November 4.