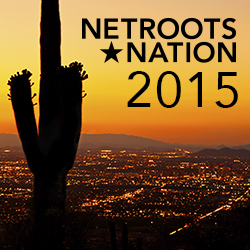 The 2015 edition of Netroots Nation starts today and it is coming to you from Phoenix, AZ. starting today until July 19. And nope, I won't be there to cover all the exciting things that are going to transpire at the Phoenix Convention Center and the various hotels.
As badly as I would have liked to have been there, just didn't work out for me to be able to come for the first time since the 2012 event in Providence, RI.
But like every one else that couldn't go for various reasons, I'll check out the #NN15 hashtag on Twitter to see what people are saying about the largest progressive conference in the country.
There's also the Netroots Nation website in which I and others who couldn't be there in person this year will be able to check out some of the seminars and speeches being webcast.
For those of you who did make it to Phoenix or are headed that way, y'all have fun, get your learn on and I hopefully see y'all at Netroots Nation 2016 in a locale to be determined later.