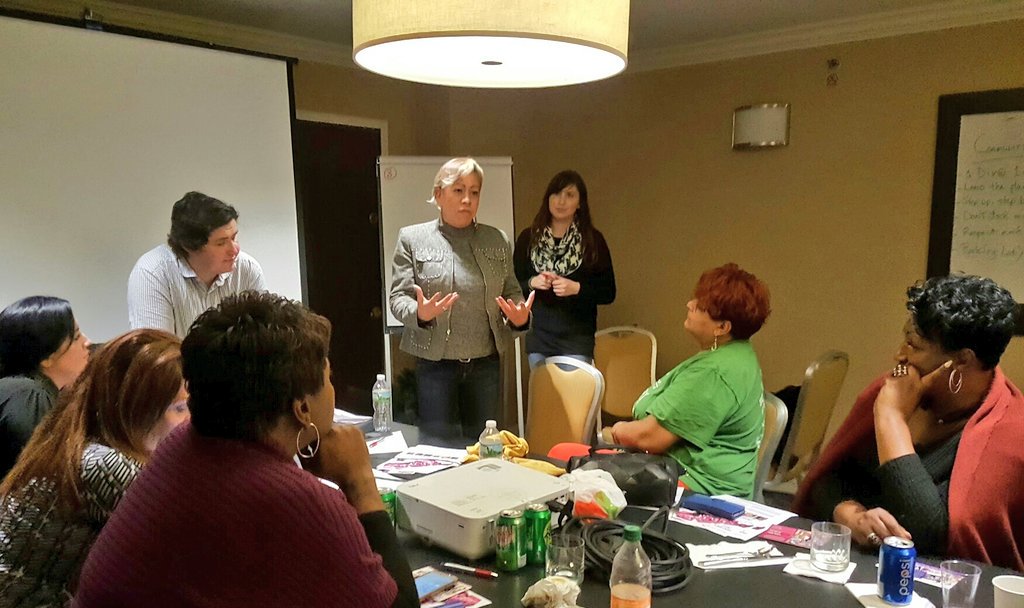 After a relatively uneventful trip for me on Delta from Houston through their mother hub of Atlanta to Philadelphia, and a 30 minute train ride from the airport to Center City, I finally arrived in the City of Brotherly Love and Sisterly Affection to take part in #CC17 and see if I can get a freebie Slurpee via my 7 Eleven app before I leave Saturday.
On the ATL-PHL leg when I boarded thought I saw longtime Atlanta trans advocate Dee Dee Chamblee. It turned out when I finally got to the Marriott Philadelphia Downtown for that Trans United Fund meeting with Angelica Ross and Nikki Araguz Loyd that indeed it was her.
And yes, it was also great to see Arianna Lint, Bamby Salcedo, Ruby Corado, Jada Mercedes Cardona, Andrea Jenkins, Becky Juro, Kayley Whalen and Hayden Mora again.
When our TUF meeting was over, I ran into Sunnivie Brydum as Nikki, Angelica and I were searching for a nearby restroom to commit the revolutionary act of peeing and pooping in before we took that group photo.
After having a 20 minute convo with her and being introduced to her friend, we found it, handled our business, too a group photo, and then set off to go back to the DoubleTree where they were staying to retrieve my bags and get me set up in my hotel room at a different hotel for the night.
While passing the bar area, we ran into Cecilia Chung. While talking to her, I got separated from Angelica and Nikki, so I made a beeline for the front door to try to catch up with them ,
That game plan took a detour when I ran into Ashton Woods, Geneva Musgrave, Omar Narvaez and finally met one of my longtime FB friends in Yunus Coldman while trying and spectacularly failing to tip out the front door of the Marriott undetected. While I was talking to them, Hannah Simpson rolled up with Tamara Jeanne, followed by Crispin Torres and a friend of his and Bishop Allyson Abrams .
I finally break away from all those folks only to run into Isaiah Wilson from NBJC 100 feet from the Market Street door.. We start talking about the Black Institute and my part in it, and Curtis Lipscomb, another of our NBJC family members, walks in.
So I finally finish those hugs and convos, get out of the hotel, get to the 7 Eleven that's on the way back to the DoubleTree, procure and destroy my first Slurpee of this #CC17 run, and finally make it to the DoubleTree..
After spending some girl time with Nikki and Angelica in their room, I left with bags in tow but there was a snafu with my reservation at the Hilton Gardens that had to be cleared up before I could check in. While waiting for Ruby, Louis Mitchell walks by the hotel while I'm sitting in the lobby after snagging a late night meal and heading back to his Air BNB spot He keeps me company until Ruby arrives with Elle Hearns in tow.
So how did your day go? This also points out just how many people I do know in this community.
And remember peeps, this is just Day 1 for me. Time to get some sleep so I can be fab for the busy day ahead of me and all the peeps I have yet to see who are here at #CC17