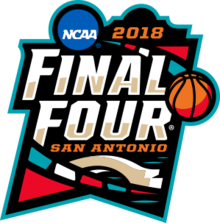 It's that time of year again, and once again as I've done since 2007, I'm posting a NCAA men's tournament bracket for y'all to peruse and pick apart. 2015has been the only year I didn't do a bracket, frankly because that year I was too busy to properly do it.
And for the first time since 2010, I finally get to see my alma mater play in the Big Dance, and it may not be a one and done appearance either.
UH lost in the AAC title game 56-55 (boo hiss) to Cincinnati, but doesn't take away the fact they have had one of their best seasons since I was walking the campus and Phi S;lama Jama was slam dunking their way to three straight NCAA finals appearances
The last time the UH Cougars won an NCAA tournament game was in that 1984 Final Four in the Kingdome against Virginia, so we're way overdue for a tournament win.
This year's Final Four, thanks to SB 6 being killed twice (you're welcome) is in San Antonio.
And yes Texas conservafools, it's more evidence of the Lone Star State getting nice things when we don't pass unjust legislation.
I got the NCAA Men's Champion right last year, and that evens my all time record to 5-5.
Here's the previous NCAA men's brackets for 2008, 2009, 2010, 2011, 2012, 2013, 2014 , 2016 and 2017
And now, my 2018 NCAA men's bracket
First Four Games
Radford, UCLA, Texas Southern, Syracuse
South Regional
First Round
Virginia, Kansas State, Kentucky, Arizona, Miami (FL), Tennessee, Nevada, Cincinnati
Second Round
Virginia, Kentucky, Tennessee, Cincinnati
Sweet 16
Virginia, Cincinnati
South Regional Champion
Virginia
West Regional
First Round
Xavier, Missouri, Ohio State, Gonzaga, Houston , Michigan, Texas A&M, North Carolina
Second Round
Xavier, Gonzaga, Houston, North Carolina
Sweet 16
Xabier, North Carolina
West Regional Champ
North Carolina
East Regional
First Round
Villanova, Alabama, West Virginia, Wichita State, Florida, Texas tech, Arkansas, Purdue
Second Round
Villanova, Wichita State, Florida, Purdue
Sweet 16
Villanova, Purdue
East Regional Champ
Purdue
Midwest Regional
First Round
Kansas, Seton Hall, Clemson, Auburn, TCU, Michigan State, Rhode Island, Duke
Second Round
Kansas, Auburn, Michigan State, Duke
Sweet 16
Auburn, Duke
Midwest Regional Champ
Duke
Final Four
Virginia, North Carolina, Purdue, Duke
Championship Game
North Carolina, Duke
20
2018 NCAA Champion
North Carolina