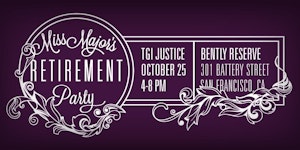 After her decades of service to our community, the TGI Justice Project announced that Miss Major Griffin-Gracy would be retiring as executive director of the organization.
On October 25 there will be an epic retirement party in San Francisco for our pioneering trans elder that also doubles as a fundraiser for the organization and Miss Major.
The party will also witness the formal passing of the TGIJP torch to Janetta Johnson, who will take over as executive director of TGI Justice Project.
While Miss Major is stepping down from the ED role at TGI Justice Project, she says she's still going to be speaking out about issues in our community when she feels moved to do so.
"I want to thank you all for working with me and being part of the transitions and changes we've gone through at TGIJP over the years. And I want to assure you that while I'm stepping down as Executive Director, my mouth is not stepping down and I will continue to bitch and let people know what my community is going through. It's difficult living in our truth, but what better way to survive? It's important that we survive; we've got to come out on top. Please continue to support and back up Janetta for taking on the responsibility of taking TGIJP into the next phase. Wish her well and help her prosper. Be safe and stay strong."
The retirement party is slated to start at 4:00 PM PDT and run until 8 PM at the Bently Reserve Banking Hall in San Francisco, located at 301 Battery Street in San Francisco, CA.
You can purchase your tickets at this link.. There is also a Gofundme that has been set up for Miss Major to help her with her retirement expenses at https://www.gofundme.com/MsMajorRetirement
Thanks for all you have done for us Miss Major, being still f*****g here to tell your story, passing down our history to me and others in our community, and representing for girls like us.