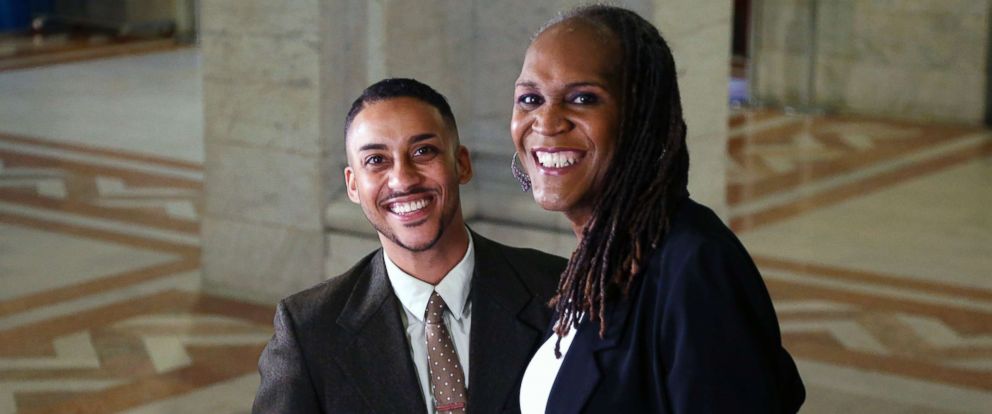 With us being in the second day of the new year, that means that the trans folks who were elected in those groundbreaking historic elections back in November now over the next few days and weeks get sworn in and start to handle their constituents business.
Here's now Councilmember Andrea Jenkins in a picture from her FB page getting sworn in this morning in Minneapolis.
Here's Councilmember Cunningham's inauguration pic. He's ready and eager to do the job for the residents of his northside Ward 4 along with his staff .
There's also in the wake of the election, interviewing and hiring the staff for your council office. And yes, you also have training to go through as a councilperson like any other job.
There was a three day orientation in which Andrea and Phillipe spent several days learning the nuts and bolts basic rules in filing ordinances and bills, voting procedures and getting up to speed on local state and federal policies that impact the city
And at $98,695 a year, the salary is nice as well.
Yes people, you have to put in the work to be an effective legislator, and having the pleasure of knowing both of them, I know they are more than prepared and ready to hit the ground running as councilmembers.
The big public one takes place on January 8 in Minneapolis when all the councilmembers gather in the City Hall rotunda to be sworn in starting at 9:30 AM CST.
Following that swearing in, the organizational meeting for city council will take place in which the Minneapolis City Council leadership will be elected. Remember Philllpe beat the incumbent council president Barb Johnson in his race who had been in that Ward 4 seat 20 years and spent the last eight of her term as the Minneapolis City Council president.
The new council president, once elected by majority vote of the council, then will assign members to various committees and appoint the committee chairs.
January 8 will not only be a historic day not only for Andrea and Phillipe, but the city of Minneapolis and the trans community as well.