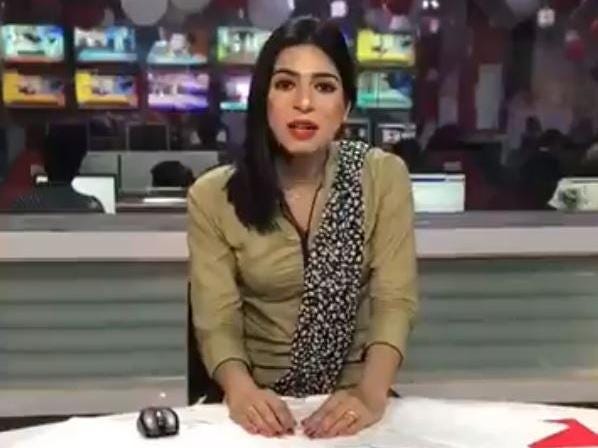 As the Trump misadministration and their white fundie allies try to force transpeople back into the closet and strip us of what human rights coverage we've managed to achieve, other countries on this planet are moving forward on trans rights issues and making history.
Pakistan is an Islamic nation in which transpeople have been ostracized, shunned by family members, treated as a joke and at times violently attacked with a frequency only exceeded in Brazil.
But like here in the States and in other countries, the Pakistani trans community is getting landmark legal wins that are helping to open hearts and minds in the country.
Our trans cousins in Pakistan are celebrating as one of their own, Marvia Malik,became the first transgender news anchor in their nation. The 21 year old Malik is no stranger to breaking barriers in her nation. She recently became the first openly trans model to walk a fashion show runway there.
But her passion is journalism, and the private Kohenoor broadcast network based in Lahore decided to take a chance and hire her.
"I have made history in my country, and I vow to use my profession as anchor to help change the general attitude of our society towards transgender people."
"Our community should be treated equally and there must not be any gender discrimination. We should be given equal rights and be considered ordinary citizens, instead of third-gender," she said in aBBC interview.
She added: "My family knows I havemodeled and they know that I work as a newscaster. It's the age of social media and there's nothing that my family doesn't know. But they have still disowned me."
She is grateful for the opportunity, and went through three months of training before she made her first on air broadcast. Malik has done so well that the station has hired a second trans person as a copywriter The owner of the station, Junaid Ansari, made it clear that Malik was hired for her journalism talent, not because she was transgender.
Malik's determination to be a change agent is echoed by Farzana Jan, the head of Pakistan's Trans Action Alliance. Jan is hopeful that Malik will not only be a positive role model, but be a catalyst for further positive change in Pakistan.
"Thank God, one of us is going on television in a serious job," Jan said. "Previously we've been presented as a joke. I hope and I believe this will help us get our rights, our protection and our respect".
Your trans cousins around the world hope that what you have expressed comes true in Pakistan.
Congratulation to Marvia, and hope she has a long problem free career as a television anchor.