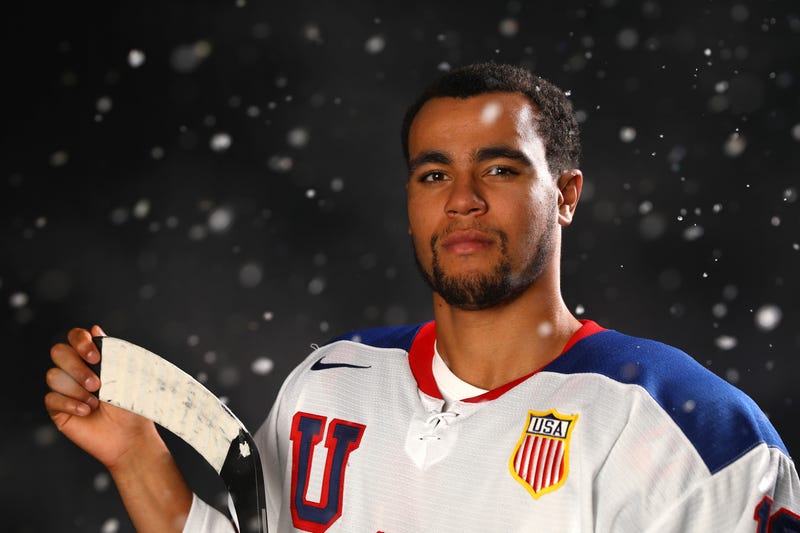 FOX Noise's John Moody may hate the diverse US Winter Olympic team, but I don't.
One of the cool benefits of that team diversity is we have Black History being made by our 2018 winter Olympians in several events. One of those events is hockey.
Because of a dispute with the International Olympic Committee (IOC) and the International Ice Hockey Federation (IIHF) concerning several issues, the NHL refused to allow its players to participate in the Olympics this year. That meant for the first time in three decades, the US team was going to be composed primarily of collegiate players. One of the collegiate players who was selected to play on this men's Olympic hockey squad was Jordan Greenway of Canton, NY.
And with that selection, Greenway makes history. When he steps on the ice at PyeongChang on February 14 the first African American ever to play on a USA Olympic hockey team.
"I dreamed of [it] as a kid, and I didn't think it was going to happen before I graduated college, but I'm fortunate that it did, and I just couldn't be more excited!" Greenway said in a CNN interview.
The 20 year old Greenway is also the tallest player on the team at 6 feet 5 inches and 238 pounds. He was drafted by the NHL's Minnesota Wild in 2015, but decided to complete his college education at Boston University . Greenway also has a younger brother, JD who plays the sport.
"I'm the first African American to play hockey for the United States at the Olympics but hopefully I'm the first of many," Greenway said. "Hopefully these kids go out, try something different, play hockey, and hopefully I see a lot more playing in the near future."
I'll have even more incentive to not only watch the USA men's Olympic hockey team, but root for its success. The last time a USA men's team won gold was when I was a high school senior at Lake Placid in 1980