Mack Beggs is a trans masculine wrestler at Euless Trinity High School in the Dallas-Ft Worth area who is a few matches away from capturing the Texas 6A wrestling title in his 110 pound weight class.
The Texas 6A girls wrestling title.
Is it fair to the cis girls he is competing against in his weight class? Nope not to them or Beggs, who would rather be competing against the cis boys. The University Interscholastic League (UIL) the governing body for Texas high school sports and academic competitions, turned down a request made by Beggs and his family for the Trinity HS junior to be allowed to compete against boys.
The UIL is still defensive when you point out what's happening. They say it was an open process that reflected the consensus of thought at the time, even as Texas trans people and others were warning the UIL the jacked up rules they were passing were problematic.
Last year the UIL's school superintendents and athletic directors voted to require that Texas transgender students compete based on the gender on their birth certificate instead of gender presentation,
He's in the Houston 'burbs competing in the 6A wrestling state championship meet being held at the Berry Center in Cypress this weekend. He has successfully gotten through the first day of the 6A wrestling championship with his two opening round wins to go 54-0 on the season
But it's no thanks to the UIL that this awkward situation is taking place at all and Beggs is the favorite to be holding the Class 6A title in his weight class when the tournament ends on Saturday.
Beggs won the Region II 6A title in Allen last week after his opponent Madeline Rocha of Coppell HS forfeited the match. Rocha still advanced to this weekend's championship matches as the regional runner up.
Nancy Beggs, Mack's grandmother and guardian said to the Dallas Morning News, "Today was not about their students winning. Today was about bias, hatred and ignorance."
"Mack is challenging what people thought was a good policy," said Chris Mosier, founder of TransAthlete.com. "This very well may spark change from people just by seeing how the policy was not well thought out and this is the outcome of following the rules exactly as they are."
Texas is one of seven regressive states that requires trans people to compete in high school athletic competition based on the gender marker on your birth certificate instead of the more enlightened NCAA and IOC gender presentation standards.
Lou Weaver, who is the Transgender Programs Coordinator for Equality Texas and was in attendance at today's historic championship match, points out in a Reuters story that Beggs is in compliance with current UIL rules that need to be changed, "so guys like Mack can wrestle with their peers, which would be on the boys team."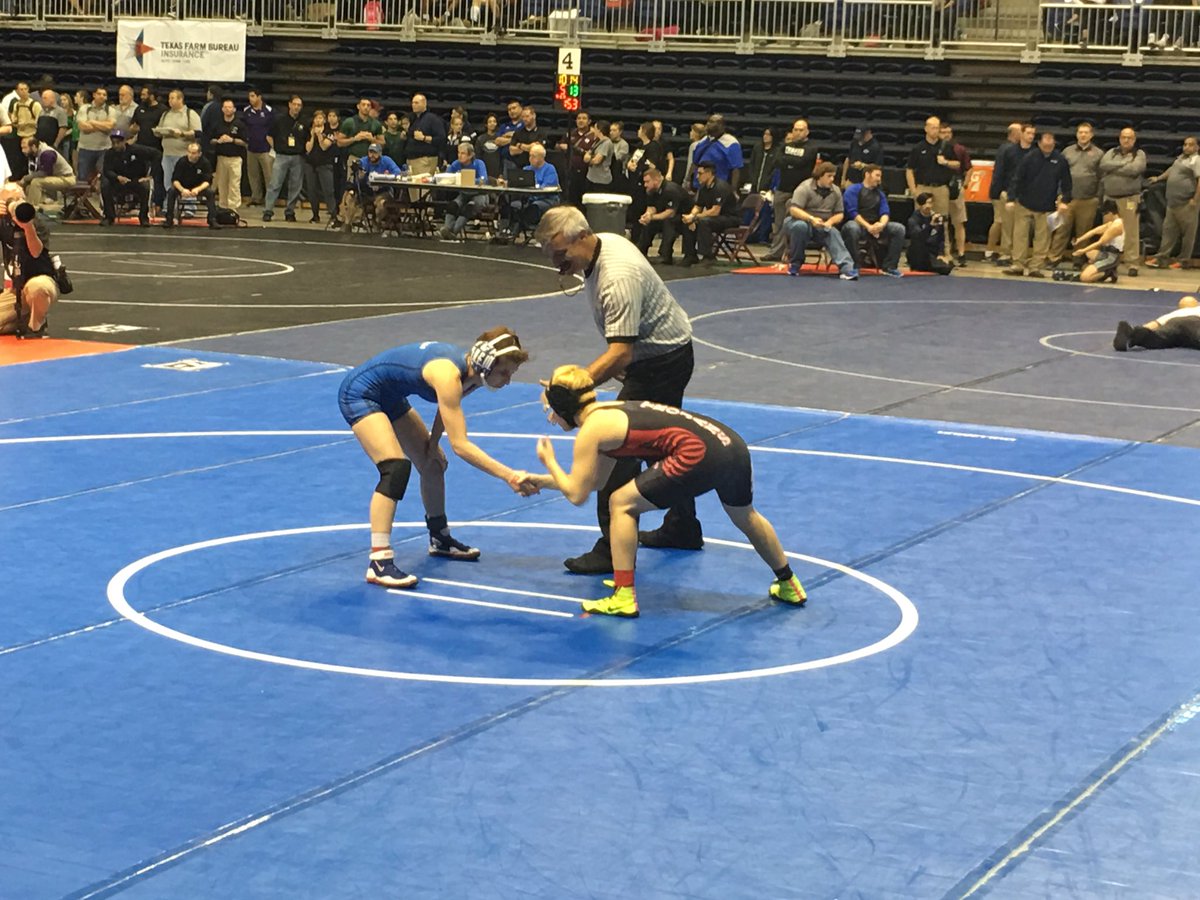 Sure hope so because that's what we trans Texans want to be able to do. We wish to compete in whatever sport we choose as ourselves, with our peers and without unnecessary drama.Good luck Mack!. Hope you leave the area with a historic state title win, and next year the UIL comes to its senses and allows you to wrestle against boys as you wish to do.