Sen. Lois Kolkhorst (R-Brenham) is rapidly becoming one of the most despised women in Texas Trans World.
Kolkhorst is becoming the face of Texas Trans Oppression in large part because she's allowing Dan 'Potty Man' Patrick to hide behind her skirts and be the front person for the unjust SB 6 that died during the regular session and now SB 3 through this Special Oppression Session.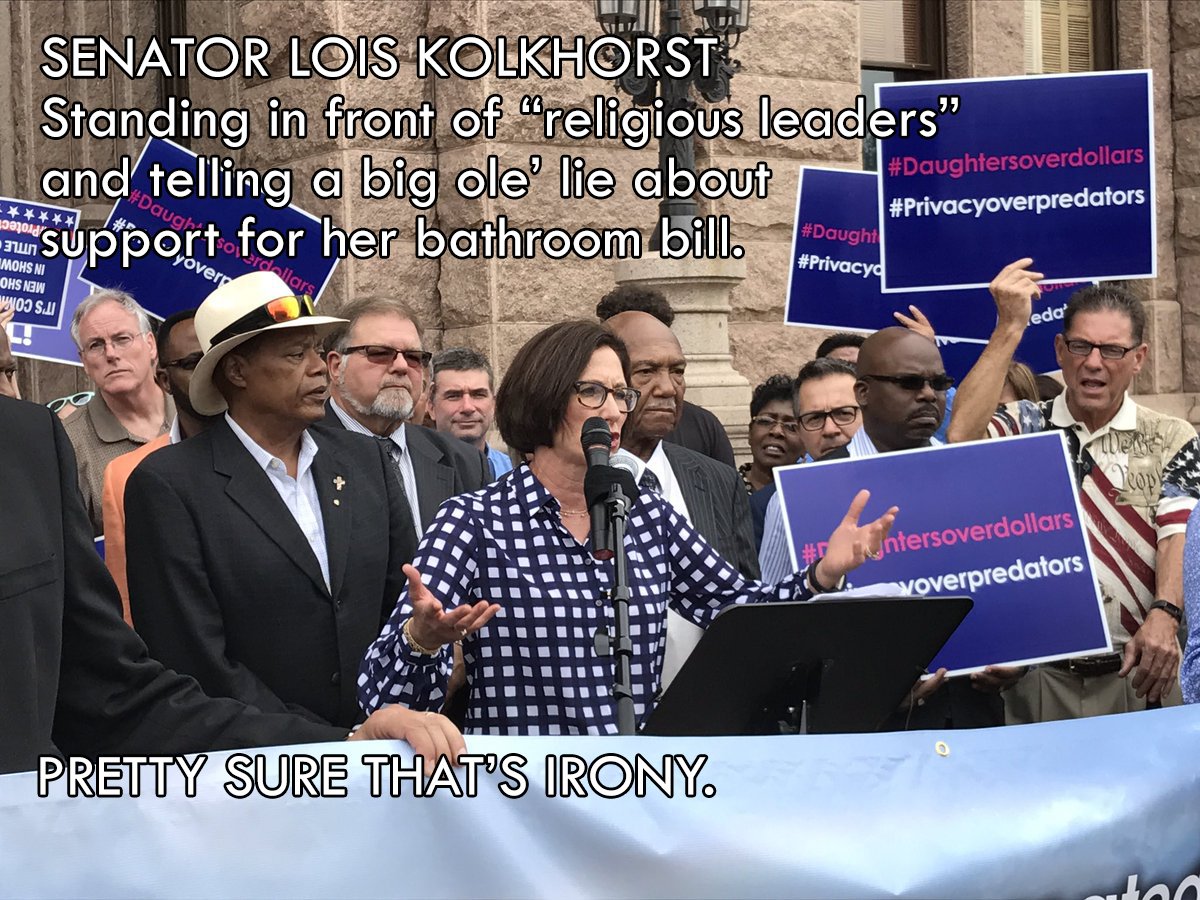 Earlier today at the press conference the Texas Values hatemongers held on the capitol steps with 150 predominately white people in attendance, Sen Kolkhorst uttered the ridiculous claim lie that
"I've not had one woman come to me and say this is a non issue. Not one woman.:"
They don't sell Whoppers that large even at Burger King.
I also find it highly ironic that Kolkhorst told this massive lie in front of a group of pastors. Then again they were violating the Ten Commandments too, so Kolkhorst was in good company.
Guess Lois wasn't paying attention during that 10+ hours of testimony in March and once again a week ago for another 10+ hours in which hundreds of Texas women cis and trans stated that point loudly and clearly.
A woman you work with, Sen. Sylvia Garcia (D- Houston) pointed out this bill was unnecessary.
Another woman you work with, Sen. Judith Zaffirini (D-Laredo), also expressing herself about your unjust bill.
This woman, Dr. Jennifer Feldman, also pointed out it was unjust, harmful and unnecessary.
.
I do thank Lois for giving me some fresh material to call her out on for my speech tomorrow from those same capitol steps.
In the meantime, give Lois a call at 512 463-0118 to remind her and her staff that there are cis and trans women in Texas who do believe this is a non issue