For those of you who not only miss the No Drama Obama Administration days and how effortlessly cool he looked in his tan suit, it's back in his official White House portrait.
Unlike the portraits that were unveiled in 2018 for POTUS and FLOTUS 44 that are in the Smithsonian's National Portrait Gallery, these are curated by the White House Historical Association and hang in the White House.
President Obama and the First Lady chose the artists who created them in early 2017, but the contracts are negotiated by the White House Historical Association and kept confidential.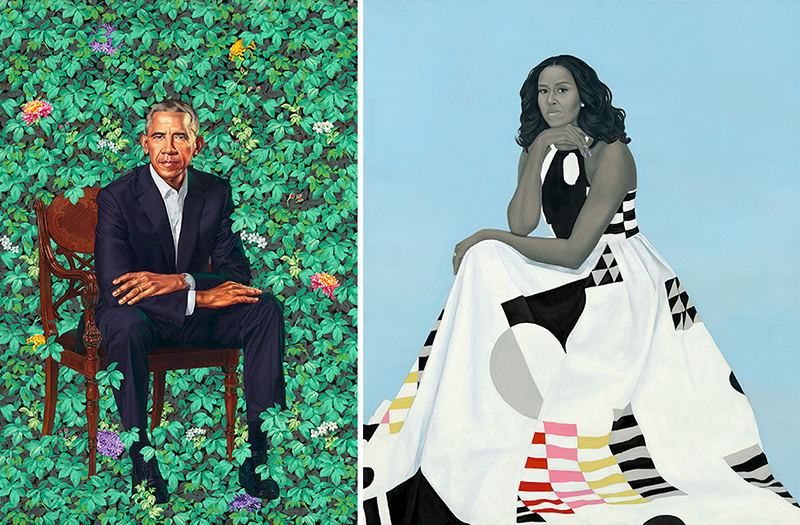 The National Portrait Gallery paintings of POTUS and FLOTUS 44 were created by Kehinde Wiley for President Obama and by Amy Sherald for First Lady Michelle Obama.
For the last 40 years, there has been an East Room ceremony that occurs at the tail end of a president's first term in which the current president invites his predecessor to unveil the official White House portrait.
Although Lady Bird Johnson had hosted Eleanor Roosevelt and Bess Truman for their portrait unveilings, and Richard and Pat Nixon hosted Jacqueline Kennedy Onassis in 1971, the first unveiling ceremony involving a sitting president and his predecessor didn't take place until 1978, when then President Jimmy Carter hosted Gerald Ford.
The Obamas invited George W and Laura Bush to the White House in 2012 for their portrait unveiling.
But with Forever President Obama not interested in setting foot in a Trump White House, and the White House Grand Wizard still jealously (and racistly) hating on Barack Obama and trying to blame him for his misadministration's failures, it's clear that tension between the two is at Defcon 2 levels and probably will be for a while.
Obama justifiably put him on blast recently for Trump's massively incompetent response to the coronavirus pandemic, and of course Orange Foolius responded in his usual petty and vindictive manner.
.
So look for that portrait ceremony to happen if Joe Biden happens to become (and I pray he does) the 46th POTUS.
Looking forward to seeing what Forever First Lady Michelle Obama's official First Lady portrait looks like as well. If it turns out better than her official First Lady photo, I wouldn't be surprised.