May 6 was Military Spouse Appreciation Day, and how apropos was it that on Saturday night in our nation's capital the third annual American Military Partner Association's (AMPA) national gala was held in our nation's capital at the Hyatt Regency Washington Capitol Hill.
So what's the American Military Partner Association? It is a 501(c)(3) organization founded in 2009 by the same gender loving partners of active duty service members that has grown to 45,000 members.
AMPA's mission is connecting, supporting, honoring, and serving the partners and spouses of America's LGBT service members. Since its founding, AMPA has become the nation's largest resource and support network for the partners, spouses, families and allies of America's trans, bi, lesbian and gay service members.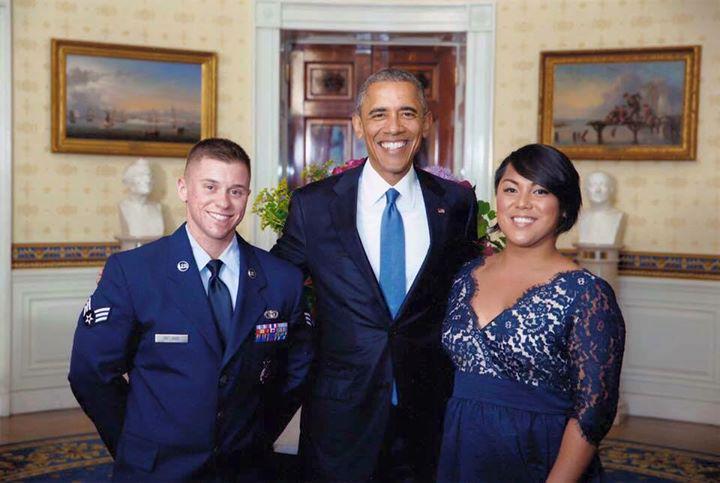 Ever since last year's LGBT Pride Reception, Army Cpl Laila and her Air Force Senor Airman spouse Logan Ireland have been getting increasing visibility and attention as just two representatives of the over 15,000 trans Americans who are serving in the US Armed Forces.
And what's ever cooler about Laila and Logan is they are a married trans military couple featured in the documentary Transgender, At War and In Love.
We hope that later this month open trans military service will finally become a reality for the Irelands and our trans siblings proudly serving in our nation's military.
At Saturday's AMPA Gala, Laila received the American Military Partner Association's Military Spouse Leadership Award.
Here's video of Laila's AMPA Military Spouse Leadership Award acceptance speech at the AMPA Gala.
Congratulations Laila! It was well deserved,.and thank you, Logan and all our trans siblings for your service for us and our country.