If you needed any more convincing that trans human rights is the civil rights battle of our time, look no further than hearing the interesting news the trans community gained a new enemy in World War T.
Joining the Axis of Evil fighting our humanity that includes the Republican Party, the Southern Baptists, the Family Research Council, Alex Jones, Paul McHugh, Fox Noise, NC Gov. Pat McCrory, TX Lt Governor Dan Patrick, TX Gov Greg Abbott, the TX Republican Party, Sen. Ted Cruz (R-TX) and the TERF's is believe it or not, the Ku Klux Klan.
If I forgot any haters, let me know. I want to give them the full credit they deserve. But back to the post..
According to a Raw Story report that quotes Dothan Eagle reporting by Matt Elofson, at least two homes in an east Dothan, AL neighborhood reported receiving fliers that supported North Carolina's unjust Hate Bill 2 while soliciting donations and recruits for The Loyal White Knights of the KKK. A similar flier was reportedly distributed in midtown Mobile last week.
The flier went on to attack trans people as 'abominations' according to the King James Bible, misquoted Deuteronomy 22:5, and peddled the lie that their (white) women and children's safety is endangered by trans people pooping and peeing in public bathrooms. The transphobic hate flier also lists a website and phone number that you can call for info and to make donations to that Klan group.
Got three words for you Klan Klowns: Matthew 19:12
Dothan Police Department Chief Steve Parrish confirmed the DPD had received the reports on Monday, and they were being investigated by the DPD's Criminal Investigation Division (CID).
'What you're dealing with is potentially implications of a hate crime or promotion of a hate crime, so we notified the FBI, " Parrish said.
Capt Will Benny, the commander of the CID, stated the flier appeared to be a recruitment flier. "It appears to be against transgender (people) and transgender bathrooms, and it was basically a recruitment flier."
DPD Capt, Stacy Robinson said that the fliers were forwarded to the FBI as a precautionary measure.
"Obviously any time you get hate related material there's a reason to be cautious and investigate it," said Robinson.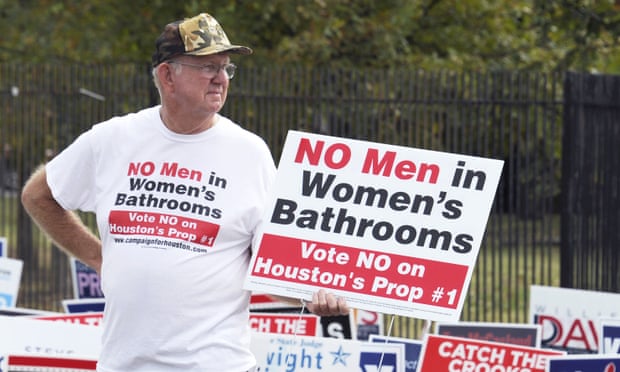 It also points out something I've been warning about for months now in terms of the media letting unchecked anti-trans hate speech go unchallenged, or dismissing it for ratings purposes as if it were a legitimate difference of opinion argument.
It isn't, and now that anti-trans hate speech is now manifesting itself into anti-trans hatred, and leading to harassment and attacks on trans and cisgender women But with America's long time hatemongers in the KKK joining the anti-trans hate chorus, it helps point out that HB2, the anti-trans hate speech, and the bathroom crap being peddled is a Jim Crow remix.
It also points out my trans siblings and allies, that we are on the morally correct side of this human rights argument.. The Klan jumping into World War T and attacking the humanity of transpeople is irrefutable evidence of that..