It took a while, but it looks like karma has finally put on her stiletto heels and kicked Milo Yiannopoulos in his posterior.
After his jacked up appearance on HBO's Real Time with Bill Maher in which Milo said some loud and wrong crap about trans people that got him called out by Larry Wilmore and a lengthening list of publications, a just revealed videotaped interview in which Milo co-signed peophilia and laughing off the seriousness of it happening by Roman Catholic priests has finally gotten people off the fence about how problematic the Breitbart editor is.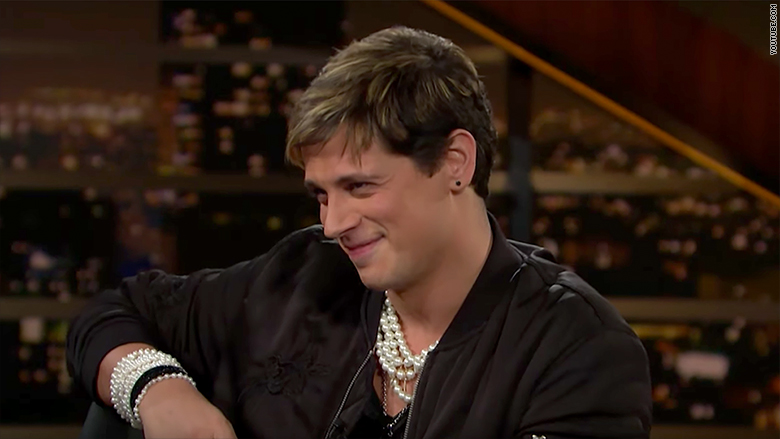 Milo had his invite to keynote the upcoming CPAC conference this weekend canceled, and his 'Dangerous' book deal with Simon and Schuster in which he was given a $250,000 advance was just rescinded There are also calls for Breitbart to sever ties with him.
We'll see if that happens.
Hopefully the same thing is going to happen with his remaining collegiate speaking engagements schedule in which he has been paid big bucks for desecrating college campuses with anti- trans hate speech that led to a protest and cancellation of a speech at Cal-Berkeley .
And yeah as a trans feminine person, I'm reveling in this schadenfreude laden situation. But it also points out something that I've observed about conservatism and useful fools like Milo.
Conservatism is for straight white males only and is the political arm of white supremacy. If you don't fit that demographic profile or are from demographic groups they hate, you are a disposable token used to advance their overall movement and propaganda messaging goals.
Once you as that token conservative darling are no longer useful to them, you will be discarded. Ask Stacey Dash and Pastor Mark Burns about that if you think I'm kidding about what I just said. .
Too bad Milo is just the latest conservative useful fool to learn that lesson the hard way.