In a sure sign that the start of the NFL football season is rapidly approaching, training camp for my fave NFL ballers the Houston Texans starts today at the Houston Methodist Training Center across the street from NRG Stadium.
Rookies reported on July 25, and the veterans had until July 30 to report. There's an open practice today, and others are scheduled for August 2, 3, 7, 8 and 18. The Texans are scheduled to travel to Santa Clara, CA for joint practices with the San Francisco 49ers August 11-13 in advance of their August 15 preseason game at Levi's Stadium, and have another joint practice in Houston with the New Orleans Saints on August 18 in advance of their August 22 home preseason game with the Saints.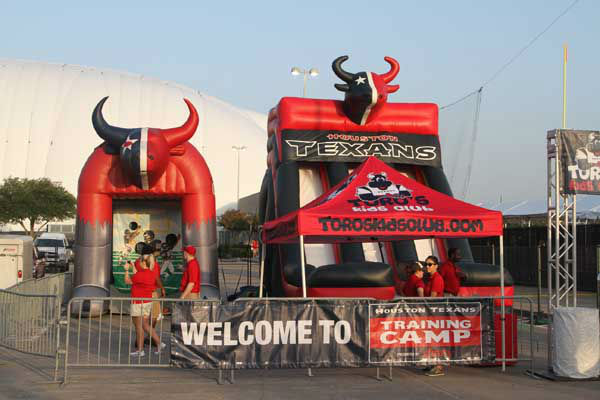 The Texans will also face the Arizona Cardinals at NRG Stadium on August 28 before taking on in their final preseason game the hated Arlington Cowchips at the Jerrydome on September 2.
There's a cautiously optimistic air for Texans fans like moi as this season approaches and the clock ticks down to their September 11 home opener at NRG Stadium with the Chicago Bears.
The defending AFC South Division champs will have a new quarterback in Brock Osweiler and Lamar Miller at running back instead of the departed Arian Foster.
There's something else the Texans have desperately needed in more speed on the offensive side of the ball and WR help for Deandre Hopkins that they hope rookie wideouts Braxton Miller and Will Fuller will provide to satisfy both needs in addition to consistent play at quarterback.
The Super Bowl will be played at NRG Stadium this season. The Texans have a championship level defense anchored by All-everything JJ Watt. Did they make enough moves in the offseason to improve the offense enough to get them there?
We'll see.