TransGriot Note: Actress Trace Lysette on the Emmy's red carpet.
One of the things I've been increasingly pleased to see is the increasing proliferation of my trans siblings gracing the red carpets of Hollywood as they work in the industry doing various film and television projects'
What I not happy about is film and television roles that are designed as trans feminine characters being played by cis men, and cis white men in particular when there are plenty of qualified trans actors who are ready, willing and able to play those characters and give them the nuance our community deserves..
Doing that feeds 'the man in a dress' stereotype that is negatively impacting our lives and the human rights of everyone. That stereotype needs to die, Hollywood, and you need to lead the way in ensuring that happens.
Look cis white male actors, y'all already get 70% of the roles in Hollywood, let some other peeps get some roles and some of that money, too.
We've come a long way from the days when Aleshia Brevard was non disclosed while working there and on stage, and didn't reveal until 2001 her trans status. I also remembering us celebrating in 2007 when Candis Cayne broke groundwith her recurring role of Carmelita Ranier on the canceled ABC series Dirty Sexy Money..
Now we have a long list of trans actors working in Hollywood like Alexandra Billings, who many of you saw on the first and second seasons of Transparent, and in an episode of ABC's How To Get Away With Murder and teaches future actors,.
We also have the amazing Scott Turner Schofield repping the trans masculine community with not only his historic role on the CBS soap The Bold and the Beautiful, but his one person shows like Debutante Balls and tonight's Chicago performance of Becoming A Man In 127 Easy Steps.
Break a leg, Scott.
And yes, I'm pleased to see my sisters Laverne Cox and Angelica Ross starting to get roles in which Black trans women are not the butt of a joke or are killed in the first ten seconds after they appear on screen.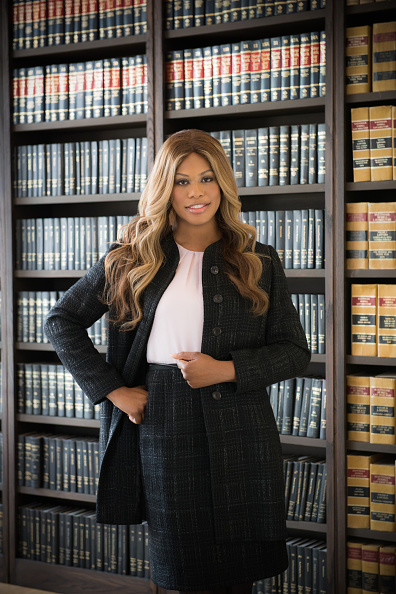 Laverne will make history when the CBS legal series Doubt debuts in the 2016-17 midseason with her playing Ivy League educated attorney Cameron Wirth. It will be the first scripted TV series ever with a transgender main character, and it's past time that happened.
And can't forget Mya Taylor, Zackary Drucker, Jamie Clayton, Trace Lysette, Michelle Hendley, Calpernia Addams and the others trying to make a name and get paid in Hollywood for their acting talents.
Hollywood, don't just hire trans actors for trans roles. Free your minds and cast trans actors for non-trans roles like you have done for far too long with cis males playing trans characters.
Hollywood, if you're going to tell our stories, make money off them and get awards for writing, filming and producing them, then you need to stop pretending trans actors don't exist.
It's undeniable that they do, and it's past time you not only start hiring trans actors to tell those stories, but trans peeps behind the camera to write and film them.