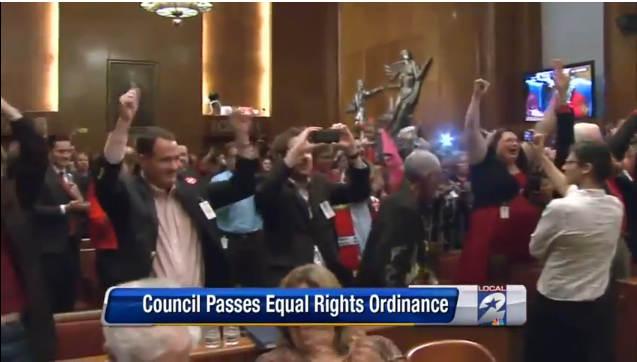 It may have been one small step in the human rights evolution for many cis and straight Houstonians, but for those of us in LGBT Houston, it was a giant leap in our human rights 30 years in the making.
-TransGriot, May 28, 2014 'Houston, We Have HERO Passage'
Today is going to be a bittersweet day for me and everyone in Houston who busted our behinds, sat through three contentious marathon city council meetings and a contentious committee hearing to pass the Houston Equal Rights Ordinance.(HERO)
On that May 28 evening, I was so proud of my hometown and being part of the team that had helped passed this human rights law that covered 15 categories for our community. That night I'd also accomplished a longtime personal activism dream of ensuring that we not only passed HERO, but it was trans inclusive. .
At the time we passed it on that 11-6 council vote, I and everyone who fought tooth and nail for HERO's passage knew that night was the easy part. Keeping it would be our task from that moment on.
But I and my fellow Houstonians who helped passed this much needed ordinance were bursting at the seams proud to have sent the message to the city, Texas, the nation and the world that discrimination's time in Houston had expired.
But as we celebrated the hard fought win, the Axis of Intolerance, led by the Harris County and Texas Republicans Party, longtime gaybaiters Steven Hotze, Dave Wilson and Dave Welch, and a cadre of sellout Houston ministers led by Rev. Max Miller were plotting to kill HERO..
They tied up its implementation in court as they collected petition signatures for a recall vote. The rife with fraud petitions were found not valid in August 2014, and that set up another lawsuit that the HERO haters lost in January 2015 that led to it immediately being implemented..
HERO was still in effect at the time we celebrated its first birthday, but the haters had appealed to the all-Republican Texas Supreme Court, who unjustly forced it onto the ballot in an August 2015 ruling and set up the now infamous repeal campaign in which the HERO haters successfully deployed the anti-trans bathroom meme to kill it in November 2015.
We have a new mayor in Sylvester Turner and several new council members sitting around 'The Horseshoe' in those nice leather chairs.
Even more crucial to our efforts to pass a new H-town human rights ordinance, we still maintain a liberal-progressive majority on council.
But with Mayor Turner early in his first term, not likely he'll be pushing to spend his hard won political capital on passing HERO 2.0 right now even though it is needed and necessary. Mayor Turner is going to focus on getting his agenda he ran on passed, and can't blame him for that. He got his first budget passed (which did on a unanimous 17-0 vote), he's dealing with infrastructure issues, and working on solving the city retirement pension funding crisis..
That meas that we are unfortunately we are back to where we started human rights wise in my hometown as this second anniversary of HERO's passage is upon us. The positive PR we gained from passing HERO took a hit as we frustratingly watched the Republican Party and conservative anti-human rights activists replicate the tactics they used to kill HERO to either kill attempts to pass trans inclusive rights laws in other cities or enact unjust statewide laws like North Carolina's HB2 as Jared Woodfill and his merry band of GOP haters mugged for the cameras and bragged about doing so..
Are we upset about that in Houston? Yeah, we are upset not only about losing a crucial human rights battle, but how it happened, and no one is taking that loss harder than me and my Houston trans siblings.

We aren't giving up on the fight to ensure that the human rights of all Houstonians are respected and protected. It's just unfortunately delayed for now as we absorb the lessons on what went wrong, what we did right and come up with strategies to ensure our success when we finally attempt to push for HERO 2.0 or whatever the new ordinance will be called.
But we will do our utmost to win the fight to get an inclusive human rights law with public accommodations protections passed in my hometown. And you can be damned sure I'm going to be doing my part to ensure it not only passes, but watching to ensure that trans Houstonians aren't cut out of it.

But here's hoping that within the next few years, we will have another trans inclusive human rights law added to the Houston Code of Ordinances and that we finally get to proudly send the message once again that discrimination's time in Houston has expired. .