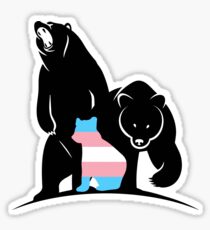 I talk a lot about the amazing moms of trans kids that have earned the nickname 'Mama Bears' because they are fierce and determined advocates for their trans cubs.
But on this Father's Day, I want to highlight and give a shout out this Father's Day for the Papa Bears, the fathers of trans kids who are just as supportive and just as fiercely protective of their trans offspring as their moms are.
I met the amazing Wayne Maines at the same time I met Jeanette Jennings, back during the 2012 Philly Trans Health Conference, and through both of them subsequently met their amazing trans daughters. Every time I have a chance to spend some quality time with Wayne at PTHC, we have some long conversations about a wide range of issues in addition to trans politics.
Since then I've gotten a chance to meet the Texas Papa Bears. I've gotten to meet and know Aaron Richie and his family, and Dallas' Frank Gonzales and his family. I'm looking forward to meeting Greg Lambert in the near future if I haven't done so already.
All three men were standing tall for their kids during the SB 6 and HB 2899 fights, and I bump into Aaron on a regular basis at various events in the Houston area.
And yes, there are Black Papa Bears in the person of J.R. Ford, Joseph Ghartey and Chris Neal who support their trans kids and provide them the unconditional love they need to survive and thrive in a hostile at times to trans kids world that is trying to assert despite all the evidence that they shouldn't exist.
Happy Father's Day Papa Bears! Thanks for all you do to not only help raise your kids, but in some cases are also sterling leadership examples that we trans elders can admire and follow.