As you TransGriot readers were aware of, I've spent the last several days in Central Florida getting my learn on at the 8th annual LGBT Media Journalists Convening.
It's one of my fave events, and I get to spend some quality time with my media fam in addition to get my learn on about the issues impacting our community in different parts of it.
Many of the premiere bloggers and journalists of our community were in the Rosen Centre Hotel house including four of the five nominees for this year's GLAAD Best Blog Award.
So yep, that meant that for the first time since the 2012 Netroots Nation me and Alvin McEwen of 'Holy Bullies and Headless Monsters' not only got to see each other, but plot and plan how we were going to piss off the haters next. I also got to hang out once again with many of our kick butt women bloggers and journalists, but also content owners like the amazing Melanie Davis
The trans media fam was in effect with birthday girl and my suitemate Dawn Ennis, Gwen Smith, my Houston homegirl Cristan Williams, Brynn Tannehill, Meredith Talusan and Lewis Wallace.
I also got to spend quality time with and get to know people like Derrick Clifton, Jahnell La Mara Johnson, and Rosalind Bentley.with the amazing Lizz Winstead, who was our MC for the weekend, and kept the panels running on time.
Thursday night our mixer event was held at Mango's Tropical Cafe where we go to enjoy some great food and even better conversation. It was nice hanging out with Joe Jervis and Colin Murphy and getting to talk to Andy Humm about community history.
I also got a chance to hang out with my Orlando via Texas homegirl Melisa Gomez, meet Elixher's Associate Editor Jahnell La Mara, see old friends like new BiNet USA president Lynnette McFadzen, Trish Bendix, Ebone Bell, Fiona Dawson Zack Ford and Mary Emily O'Hara while eating some wonderful food and min lava cakes while seeing their show from a TV screen in our VP area that had a trio of Michael Jackson impersonators.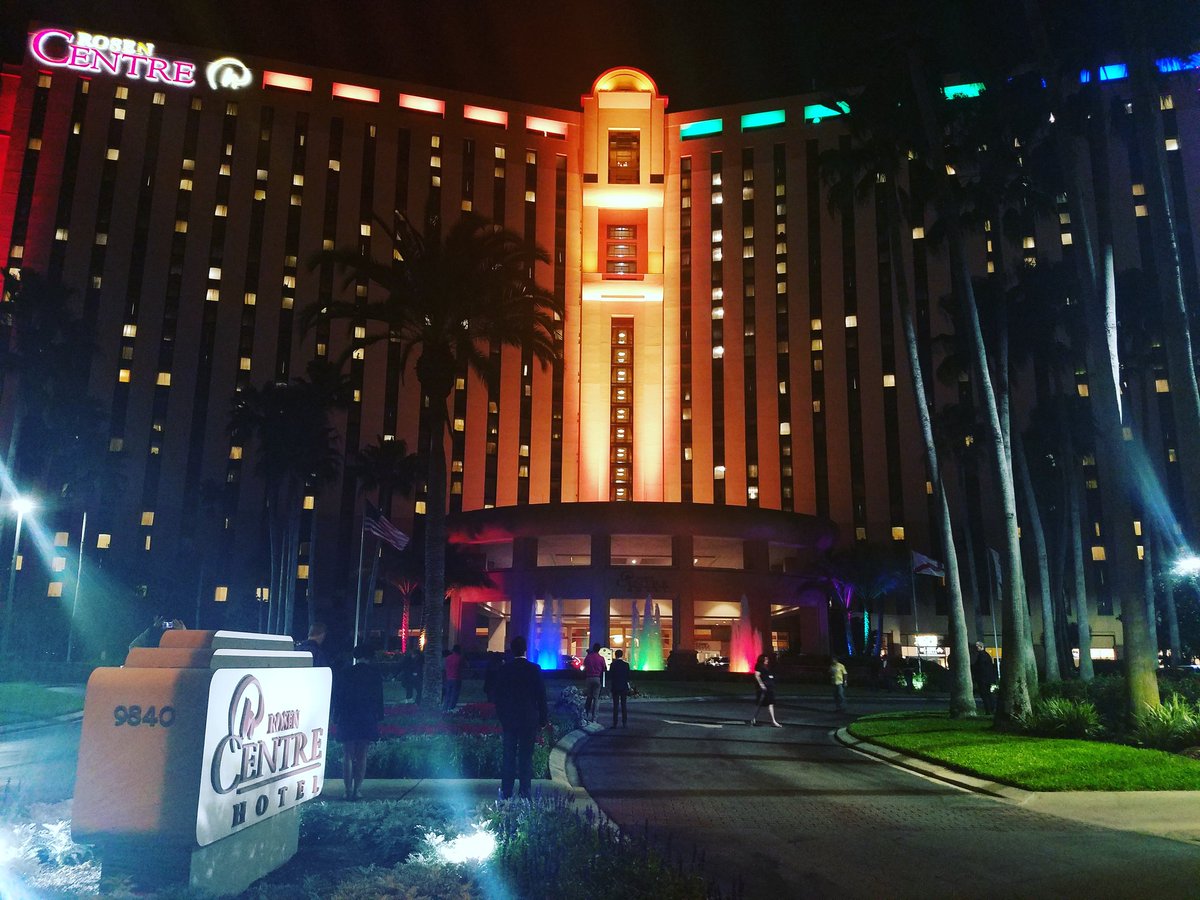 We also got to see upon our return to the Rosen Center Hotel from our excursion to Mango's the fountain in front of the hotel lit up in the rainbow flag colors in honor of our event being there.
Friday morning came way too early, and our first LGBTMedia17 day got started with breakfast and the morning talks from 9-12 noon
In addition to the extra day of informational panels and talks we were doing this year, there was also a new feature being initiated for this year's event in which we paired at a table with veteran and newbie attendees so the newbies didn't feel left out.
I was part of Trish Bendix's 'Trish's Magnificent Seven' table
The topics covered in those talks were Objectivity Is Dead by Lewis Wallace, International News Coverage Begins At The Source by Michael Lavers, Journalist Or Accidental Tourist: Covering International LGBTQ Issues by Roberta Sklar, Visual Storytelling: A Guide To Showing Not Telling by Steve Johnson, When It Was Made About Me , I Learned It Had Nothing To Do About Me by Jana Shortal and we closed out the morning talks with Beyond Murder: Covering Transgender People Of Color by Meredith Talusan.
We LGBTMedia attendees were also tweeting the proceeding via the #LGBTMedia17 hashtag, which we were proud to discover within an hour after the morning talks started, was the number one hashtag on Twitter.
We were also happy to discover during lunch that our gender neutral restroom sign was not only well received by other people sharing the hotel with us and being used, it was sparking conversations.
After lunch we had two deep dive sessions scheduled to run from 1-2:45 PM to choose from that lasted 45 minutes with a 15 minute break to switch between session if you wished.
Steve Johnson moderated the Showing Not Telling session while Roberta Sklar moderated the Practical Considerations For International Coverage one
After a snack break in the main meeting room from 2:45-3:15 PM we began the Afternoon talks in which the topics covered were LGBTQ Equality and Religious Freedom: You Can Have Both by Sally Steenland, #PopCulturePivot by Twanna Hines, Highlighting Experiences of Family Members Of Transgender People by Brynn Tannehill and to close out the business end of LGBTMedia Day 1 Audience Engagement Is Like Dating by Joy Mayer.
After remarks from our MC Lizz Winstead, we had a break from 5:30-7 PM before we returned to Salon 3 for dinner, drinks and a speech from Atlanta mayoral candidate Cathy Woolard.
But before Cathy was brought on to speak to the LGBTMedia 17 fam by Jen Christensen, we were introduced to the owner of our amazing host venue Harris Rosen, who is also known in the Orlando area for his wonderful philanthropic work
Something I ate at breakfast that morning didn't agree with my stomach, and I left early during Cathy Woolard's speech to retire to my room and purge whatever was upsetting my stomach. I got over it, but it kept me up most of the night as I made frequent trips to the porcelain throne room.
Yeah I know, TMI.
So after that mostly sleepless night, my phone alarm rang way too early to start Day 2 of LGBTMedia17 After breakfast, we started Day 2 at 9:30 AM by talking about one of the things that was on everyone's mind since we were here in Orlando by discussing the PULSE club mass shooting attack.
The Covering Pulse panel featured Jeff Truesdell, Billy Manes, Erik Sandoval and Meredith Talusan.
It then moved on to introducing Ricardo Negron-Almodovar, who as a survivor of the Pulse attack told his perspective on what the media, and specifically the LGBTQ media got worng about their PULSE coverage and his hope it gets corrected before the looming one year anniversary of it on June 12.
Ricardo was also given extra time to talk because our MC correctly thought it needed to happen.
Andy Humm then took to the podium for his talk entitled There Is No Substitute For Face To Face Interaction, followed by Intersectionality and Storytelling by Derrick Clifton ,
The morning sessions closed out with a Science of Storytelling one by Matt Sheehan and Ann Christiano before we broke for lunch in Salon 3 at 12:30
Intersectionality is s topic that can't be discussed in 5 minutes, and it was something that myself and several people tweeted about in terms of wishing that it was a subject for a deep dive discussion.
Well, you know the old saying about putting something out in the atmosphere with the hope , speaking it into existence and it will happen? We did so on the intersectionality topic and were rewarded with an intersectionality deep dive discussion moderated by Derrick Clifton. But it was starting at 1 PM, so i had to finish my lunch a little faster than I would have liked in order to get back down to the Signature 1 main room where Derrick's session was happening.
It was a needed and necessary topic added in addition to the previously scheduled #StoryScience one by Sheehan and Christiano and How To Build Audience By Watching Movies and TV by Twanna Hines.
The 2:45 snack break came way too soon to end it and set us up for the Afternoon talks
Moya Bailey talked about via video Social Media and Social Justice Ethics, and took some questions from us before we moved on to the next topic .Prophecy and Proof: How A Half Century of Medical and Media Narratives Came To Define Transgender People by Bethany Grace Howe.
Mary Emily O'Hara then took the podium to talk about Creating and Owning A New Beat.
Fiona Dawson then took the podium to discuss Leveraging The Intersection of Advocacy and Journalism. She laid out in her discussion how her story about Logan and Laila Ireland eventually led to ending the ban on trans military service.
The final afternoon talks of LGBTMedia17 covered the topics of the Power of A Single Story by Rosalind Bentley and my Texas homeboy David Taffet discussing Covering A Murder When The Story Leads Back To Your Office.
After filling out some evaluations and some down time taken either in poolside conversations or retreating back to our various rooms to get ready for out on the town forays later that evening, we gathered in the Rosen Center hotel lobby at 6:30 PM to board the buses again.
We were traveling first to the PULSE nightclub to pay our respects to the 49 predominately Latinx people who died there, and then head to dinner in downtown Orlando at Kres Chophouse.
I and my dinner companions after being seated at the chophouse began to have discussion ranging from classic Black movies to neo-soul artist to me doing an impression of Anika Noni Rose's Grace Makutsi character from the short lived HBO cable TV series The No.1 Ladies Detective Agency.
News flash, I do have a sense of humor I unleash upon the world at times.
And yeah, they weren't kidding about those pork chops,. They were thick, meaty and amazing
While some of us headed back to the hotel, others headed to The Parliament House or Southern Nights for a well deserved night on the town. When we got back, I satisfied my Slurpee craving since there was a 7 Eleven less than a block from the hotel and paired it up with a slice of the pizza from the deli inside the Rosen Center hotel for a midnight snack.
Then I settled down to do some writing before I flipped the TV to SportsCenter to see how my NCAA men's and women's brackets were doing. .
Sunday dawned with us gathering near the pool to have brunch and say goodbye to each other until we got the chance to see each other again either at some upcoming conference or next year's #LGBTMedia18 event.
Definitely looking forward to #LGBTMedia18, wherever it happens next year.