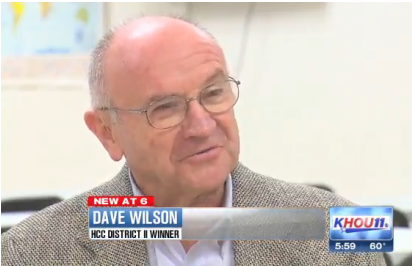 Transphobic homohater Dave Wilson, fresh off a 2013 campaign in which he pulled a Rachael Dolezal and misrepresented himself as Black to narrowly get elected to a six year term on the Houston Community College board, is trying to lie his way into office again.
This time he's trying to move up the political food chain and get a state House seat, and the long time LGBT bigot is trying to run in the Democratic primary against longtime state Rep. Jessica Farrar in House District 148.
With early voting just starting for the March 1 primary and running until February 26, Wilson just unleashed a deceptive mailer in which he posted a picture of Farrar's home and her car with the state official license plate affixed to it to claim that she doesn't live in her Houston district, but in Austin.
The reality is Farrar's home is in the middle of TX 148,
It's also laughable that Wilson would try to project his own situation on someone else becausehe was busted and suedfor doing exactly what he is falsely accusing Rep. Farrar of.doing.
And he bragged about what he pulled off in the afterglow of his HCC race that he won by 26 votes.
Voters of HD 148, please don't fall for the okey doke. make sure you rebuke this fool and send Rep Farrar to victory against this political charlatan..