The second presidential debate turned out as expected with Donald Trump lying through his teeth once again in addition to having some WTF moments.
Trump at one point is standing uncomfortably close to Clinton during that debate after admitting to co-moderator Anderson Cooper that he doesn't understand what sexual assault is.
As usual, any time Trump was asked a direct question, he didn't answer it and deflected to attacking Clinton. He also attacked a Clinton that last ran and won re-election presidency in 1996 in Bill.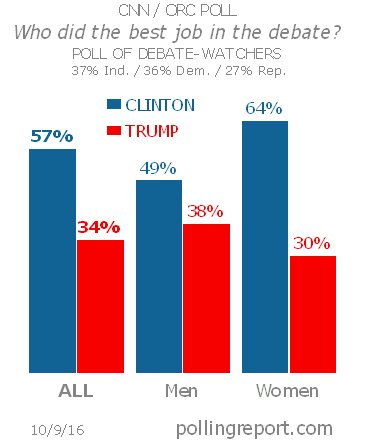 But Bill isn't running, it's his wife. What Bill Clinton did 20 years ago isn't for debate in 2016. That was dealt with back in the 90's. Donald is the one running for POTUS, and it's your character that is being evaluated.
.
Despite the pathetic attempts of the conservative leaning pundits to attempt to call this a 'win' for Trump, it wasn't, especially when you make the jaw dropping statement that you're going to throw your political opponent in jail and you 'have the utmost respect' for women when it's been glaringly obvious in this campaign and throughout your life you don't .
While co-moderators Martha Raddatz of ABC and Anderson Cooper of CNN did yeoman's work in keeping this debate from spinning out of control and devolving into a WWE cage match, one of the things I didn't like is the fact that despite being less than 30 minutes from Ferguson, MO, not one question was asked during this 93 minute debate about police reform or #Black Lives Matter.
Neither were their any questions asked about LGBTQ rights or what either candidate would do to protect and defend the human rights of transgender Americans.
And with Chris Wallace of FOX News moderating the final debate in Las Vegas on October 19, I doubt any questions on those two subjects will be asked at that debate either.
But once again, a great night for Clinton, with another decisive debate win despite the appearance more combative but still facts free Trump.
Final debate on the UNLV campus will be interesting to see play out.