While the attention of the Texas Black trans community was focused on the DFW area, what we weren't aware of was that some Black trans excellence was happening here in the Lone Stat State.
The NCAA Division II Women's Track & Field (Athletics to the rest of the world) Championships were held in Kingsville, TX on the campus of Texas A&M-Kingsville just outside of Corpus Christi during that May 23-25 weekend.
In the 400 m hurdles race final starting in Lane 4 was Franklin Pierce University senior CeCe Telfer. She'd already finished fifth in the 100 m hurdles final earlier in the day at 13;56 seconds, a half second behind NCAA Div II national champion Courtney Nelson of Pittsburg State..
Telfer captured the 400 m NCAA Div II title in the 400 m hurdles in a personal best time of 57.53 seconds
"It was tough conditions out here with the wind and the heat over the last three days but, as she has over the last six months, CeCe proved herself to be tough enough to handle it," said FPU head coach Zach Emerson of the performance. "Today was a microcosm of her entire season; she was not going to let anything slow her down. I've never met anybody as strong as her mentally in my entire life."
As you probably guessed, the TERFs and other haters are already coming out to attack her. Telfer competed on the FPU men's squad for three years before stepping away from track for a year to transition. NCAA rules state that you must be on hormones and testosterone suppression meds for one year before you are allowed to compete in your presentation gender.
Telfer's love of the sport pulled her back to the track, and she was enthusiastically supported by the Franklin Pierce University administration, the AD, and her teammates.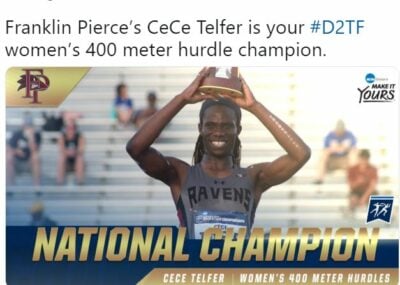 But she still faced transphobic hatred from other competitors during her senior season.
Nevertheless she persisted, and is not walking way with the NCAA Div II title as 400m hurdles champion.