This CC15 day started for me with the NBJC Black Institute, and ended at 2 AM cutting up in the Sheraton Denver lobby with my trans brothers and trans sisters.
After the opening remarks from NBJC executive Director Sharon Lettman-Hicks, we dove right into the first panel of the day
It was entitled From the Grassroots to the National Stage: Movement Building with Intersectional Justice for Black LGBTQ/SGL People. It was a panel with Mandy Carter, Earl Fowlkes, Geneva Musgrave, Rev. Dr Kenneth Samuel and Chai Jindasurat and myself in a robust discussion of the state of Black LGBTQ?SGL America .moderated by Angela Peoples.
It was a 90 minute discussion that ended far to soon for the breakout sessions that followed later. and took us to lunch.
Black LGBTQ youth was served in the first panel after the lunch break was a Black Youth Project 100 sponsored panel entitled Get Free:Black LGBT Rights and Grassroots Organizing.
The high energy and informative presentation by Angie Brilliance, Samantha Master and Charlene Carruthers discussed grassroots organizing, and building power in our community as seen from the eyes of the 18-35 set.
After their part of the institute concluded, we had the honor of Fallon Fox addressing us after being introduced by Kye Allums. Fallon told us about her journey to becoming a kick butt WMMA fighter while trans.
That was the lead in to the next panel at 3:30 PM, presented by Athlete Ally.which focused on the sports world. Black TBLGQ athletes such as Kye Allums, Fallon Fox, Brittney Griner, and Michael Sam have not only excelled on the field, but made trailblazing progress that also has bigger ramifications for our community.
The Color of Sports:Black Perspectives at the Intersection of Race, Gender and Orientation in Sports was moderated by Wendy Lewis after being introduced by Akil Patterson.
Panelists Kye Allums, Wade Davis Ashland Johnson and Nevin Caple discussed the challenges of being Black and LGBT in the sports world.
The final panel of the Black Institute was entitled Suffering in Silence:Addressing HIV, LGBT Health and The Black LGBTQ/SGL Community moderated by Venton Jones.
This was my second panel of the day, and I was joined by the Rev Dr Jamie Washington, Kenyon Farrow, Jai Makokha, and Maria Glover-Wallace in which we not only discussed the HIV/AIDS epidemic in our community, but the need to focus on health care, wellness, and raising the profile of HIV/AIDS to where it has the same level of urgency that we give to combating obesity and diabetes in the Black community.
We also discussed the launch of the NBJC Black Wellness Initiative in that interactive panel discussion what we probably could have used another hour for.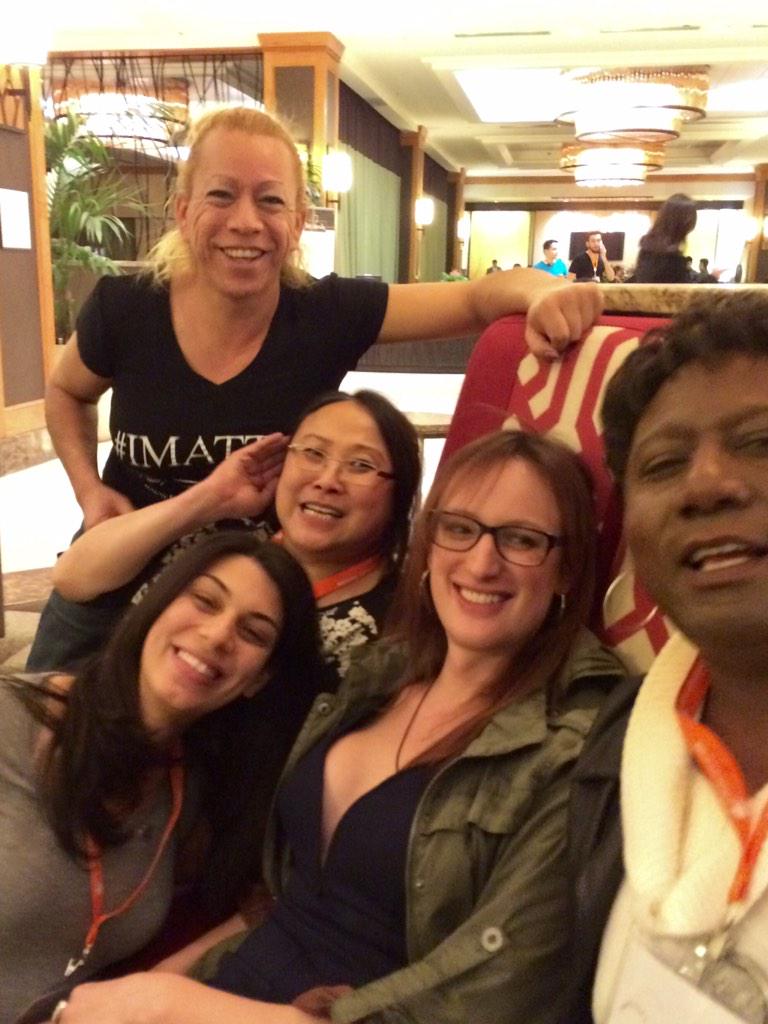 After the closing remarks from Sharon, the second annual NBJC Black Institute was concluded.
After joining my Houston homies Ashton Woods and NBJC Emerging Leader Brandon Mack, we headed to the People of Color suite to hilariously kill some time before heading to the what turned out to be a very interesting opening plenary session.
After writing up what happened at the protest, I returned to the lobby area to hang out with my trans sisters and trans brothers until nearly 2 AM
Yep, long day. But I'm not complaining.Just need a little sleep and I'm good to go.