Back in 2015 Bill King narrowly lost in a December runoff to current mayor Sylvester Turner in large part because ethnically diverse Houston, and especially the Black and Latinx parts of it ain't feeling Republicans right now.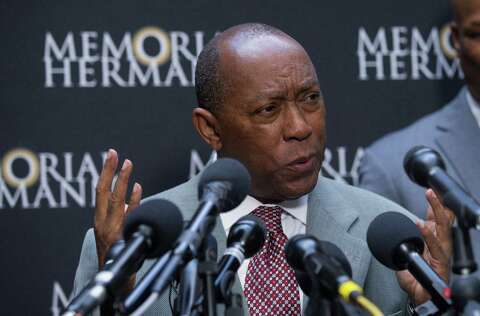 Our city hasn't elected a Republican to sit in our mayor's chair in over 40 years, so in this run, looks like King is deploying deception and racism in his attempt to knock Turner out the mayors chair at The Horseshoe.
He has already been called out for his dog whistle racist signs that are still up in many parts of town that say 'Clean Up City Hall', as if to imply there is rampant corruption going on with the Black mayor in charge.
Since our Houston municipal elections are theoretically nonpartisan, to imply that his Republican behind has bipartisan support, a mailer has appeared targeting the predominately suburban white Kingwood area in Northeast Houston that lists some Democratic precinct chairs and makes the claim they support him.
Only problem is that many of those Democratic precinct chairs listed in the mailers DON'T support King, and were majorly pissed to find out their names appeared in his campaign literature without their knowledge. Those Democratic precinct chairs want their names removed from King's campaign literature ASAP.
King apologized on August 7, then three days later sent out another mailer targeting the predominately white Clear Lake area in suburban southeast Houston replicating the same tactic.
This statement appeared on the Harris County Democratic Party's website expressing support for their party precinct chairs outraged at the unauthorized use of their names or that they implicitly supported the King campaign.
The Harris County Democratic Party has been made aware that Bill King, Candidate for Houston Mayor, recently mailed a political advertisement that identified as supporters, among others, Democratic Precinct Chairs.
Our Precinct Chairs have unequivocally stated that at no time did they express support for Mr. King's campaign or otherwise give their consent to be listed as supporters of his campaign.
"We take the concerns of our Precinct Chairs very seriously, we always have their backs," said Lillie Schechter, HCDP Party Chair
We stand behind these chairs in asking that all candidates conduct their campaigns with the utmost integrity and obtain consent before listing any HCDP Precinct Chair as a supporter.
Why am I not surprised that King would do what Republicans always do when they run for office? Lie and do whatever shady crap they have to do to win.