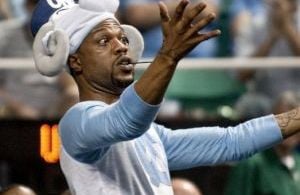 You'll recall back in April when Chevara Orrin, Jane Vaughn and We Are Straight Alliesbrought to my attention the over the top bias, homophobia and transmisogyny being aimed at openly gay Winston Salem State University student Aaron McCorkle.
He was running for Mr. WSSU at the time and photos of him dressed in feminine attire were maliciously released in an attempt to derail his campaign.
Popular 102 Jamz DJ, WSSU alum and announcer Brian 'B-Daht' McLaughlin then poured gasoline on the situation with a series of homophobic tweets. While McLaughlin eventually apologized for the tweets, McCorkle accepted that apology for them, the damage was done and McCorkle lost the Mr. WSSU election.
In the wake of this kerfluffle, WSSU has indicated that cultural competency training will be offered. Orrin, Vaughn and allies continue to push WSSU to add gender identity to the school's non-discrimination policy and implement the Safe Zone program campus wide.
As for McLaughlin, after a 10 year tenure as the PA announcer for WSSU Ram football and basketball games that started in his junior year at the school, McLaughlin was fired as the announcer for WSSU athletics.
Bigotry has a cost