The list of trans people,running for office in 2018 to #TransformPolitics continues to grow.
Have two more names to add to that list and both are longtime advocates and friends of mine in New York state running for legislative office there.
Andrea Marra is running for a New York State senate seat in Senate District 13 against the incumbent DINO senator Jose Peralta. Peralta is colluding with the NY Senate Republicans so they can keep control of the Senate and block progressive legislation coming out of the Democratically controlled state Assembly.
Senate District 13 covers the neighborhoods of Queens, Jackson Heights and Astoria in New York City.
One of the bills that is caught up in that legislative drama is GENDA. That transgender rights bill has passed multiple times by large margins out of the Assembly, but has yet to get a hearing, much less a vote in the Republican controlled Senate in large part because of the sellout group of Democrats who caucus with the Republicans.
Should Andrea's run for the SD 13 seat be successful, it would not only put a Democrat back in the Senate 13 seat, it would also put the party one step closer to finally getting control of the NY Senate in a predominately Democratic state and breaking the GOP senate logjam preventing progressive legislation from getting passed and signed into law by Gov.Andrew Cuomo (D).
Andrea said this about her race on her Facebook page.
It's time to dish on what I've been working on for months. With already 210 contributions raising nearly $50,000 in just 30 days, I'm running for state senate to tackle the affordability crisis affecting New Yorkers from all walks of life. An affordable New York enabled my parents to succeed and I am running to ensure that other working and middle class people are offered that same kind of opportunity.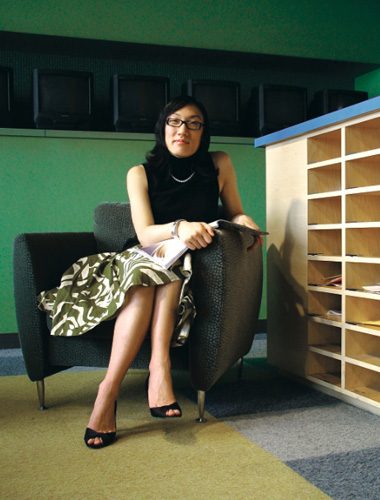 I'm running against the incumbent Jose Peralta who walked away from the Democratic conference and now shares power with the Republicans. Enabling the party of Trump is clearly not the answer, yet Peralta is proud of his new affiliation. He even accepted $20,000 from Richard LeFrak, a close friend and major donor to Trump. Now more than ever, we need a strong and progressive state government to safeguard all New Yorkers from the real harm coming out of the White House. And I am excited to work hard and earn the privilege of serving my local community.
In the coming weeks and months, I look forward to meeting more of my neighbors and listen to their concerns where 167 languages are spoken and difference of all kinds is valued. Let's transform New York, together.#Marra2018 #SD13 #QNS #WatchMeWork
Marra would also be making history if she's successful. If she wins she'd be the first out Asian American elected to the NY Senate and the second Asian descended trans person elected to public office anywhere in the United States.
Kim Coco Iwamoto, who was elected to the Hawaii State Board of Education in 2006 and is currently running in the Democratic primary to become Hawaii's lieutenant governor, was the first Asian trans person to make that electoral history.
Marra would also be the first out trans person of any ethnic background elected to the New York state legislature.
The other person attempting to make electoral history is another longtime New York based trans advocate in Melissa Sklarz.
Melissa is no stranger to making history. In 2016 she became one of the first trans person in New York state who was named and cast a vote as an Electoral College presidential elector
Sklarz is running for the 30th State Assembly district seat that is also in Queens. The 30th Assembly District covers Woodside, Maspeth, and parts of Middle Village, Astoria, Sunnyside and Long Island City.
She's also challenging an incumbent in Assemblyman Brian Barnwell who defeated a 9 time incumbent in the Democratic primary in 2016.
So needless to say Melissa is going to have a tough race and this is what she had to say about it from her Facebook page. .
"My dream is finally coming true. I am excited to announce my run for the New York State Assembly's 30th Assembly District in Queens (Woodside, Maspeth, and parts of Middle Village, Astoria, and Sunnyside). This is the first of many announcements to come about this campaign. This race will not be easy, and I will need your help."
After the 2016 election, I realized that now, more than ever, my years of experience in Albany and NYC advocating for equality will be put to good use representing the voters in my district. With our transportation network in crisis, the Trump budget assault on New Yorkers, and women still lacking proper representation in all sectors, I will make sure all voices are heard in Albany.
Please donate whatever you can and share with your networks. I look forward to working with you and for you! #Melissa2018https://secure.actblue.com/donate/melissa-2018-1
Should Sklarz win this race, she would be making trans history again by becoming the first out trans person elected to the New York General Assembly.
Run Andrea and Melissa Run! Good luck to both of you in this 2018 election year that is becoming more interesting by the day.
Hope those of you living in New York will help them both out and help them with their campaigns either with your cash, your volunteer time and more importantly, your votes.
This is your chance trans New Yorkers, to elect someone to the legislature to represent you, and hope you take advantage of it.