Nobody yet. It's still a razor thin race between former Secretary of State Hillary Clinton and Senator Bernie Sanders with several precincts outstanding..
The first event of the 2016 presidential primary season happened last night in the Iowa Caucuses. In the 99 counties across the state, both Democratic and Republican voters headed to 1061 locations all over the state to support their respective candidate choices for their party's presidential nominations.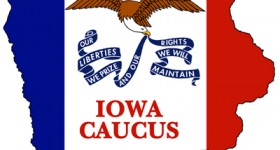 They started at 7 PM CST, and while the GOP one was over early with the junior senator from Alberta in Ted Cruz upsetting Donald Trump for the win.
As of this writing the Democratic contest between Clinton and Sanders is razor thin and has yet to be called.
One of the other results from tonight is that former Maryland Governor Martin O'Malley suspended his campaign after his poor showing in the Democratic caucus, and Mike Suckabee Huckabee finally exited the GOP race after his poor showing in the GOP one.
With 97% of the precincts reporting, Clinton is up by a razor thin 49.8% (22 delegates) to Sanders 46.6% (21 delegates) with O'Malley capturing just 0.6% of the vote percentages.
The 2016 race to the White House is now in the vote casting stage and the next battle in which actual ballots will be cast will be next Tuesday, February 9 in the first in the nation primary in New Hampshire. There will be a crucial Democratic debate moderated by MSNBC's Rachel Maddow on Thursday which should be fun to watch.
We'll know who won this on the Democratic side in a few hours.
TransGriot Update: The winner is Hillary Clinton. But doing so, she made history by becoming the first woman to win the Iowa caucus. Hopefully she'll be making more history as this continues.