TransGriot's early years were focused on my Texan in Exile life in Louisville, and while living there and feeling homesick in 2007, I wrote a post about the 25 things I missed about Houston.
From time to time I've written about how much I miss Louisville, and certain events and dates will trigger another flood of memories of life in as the right wing haters call it, 'Sodom on the Ohio'.
Note to those haters: don't diss the town that provides much of your state's tax revenue when people come to visit it and Lexington for starters and not your backwoods idiocy.
I'm now approaching the same six year period it has been since I drove the moving van onto I-65 south four days after my birthday in May 2010 and headed back to the Lone Star State.
In the nearly nine years I lived there, Da Ville grew on me to the point where I not only made friends there in addition to the ones I had who lived there prior to my September 2001 move, but I grew to appreciate some of Kentucky's charms.
Bardstown Road Aglow happening tomorrow is also triggering I miss Da Ville memories for me as well, so I decided to write a post similar to the 2007 one I wrote, but this time focusing on Louisville.
Here are the 25 things I miss about Louisville besides my chosen family up there.
1. Dawne Gee
Dawne Gee is a native Louisvillian who is one of the 5 and 7 PM newscast anchors at WAVE-3 TV. WAVE 3 is the NBC affiliate there and it became one of my local news stations I frequently watched thanks to large part to meeting her.
I met her when I was working at Macy's and she was looking for Christmas gifts for her son Alex. We kept bumping into each other either at the store or at local charity events like the AIDS Walk or others around town and became friends as a result.
You have to also admire someone like Dawne who has two degrees (in communications and biology), applied three times at WAVE-3 before she finally got that job there in 1994 and quickly ascended to anchoring their local newscasts , beat cancer and just survived an on air stroke.
Speedy healing and recovery, Dawne.
And yeah, I also love her because she's a Taurus and our birthdays are just four days apart.
1A. Angie Fenton
I'd actually run into Angie before I finally met her. I was attending a local TBLGQ Derby Party at The Olmstead in 2003 that she was covering for the Courier-Journal while stylishly dressed in a pink skirted suit with matching pumps and a pink Derby hat.
We didn't meet that day, but our paths would eventually cross again.
She's also a local media icon in print and television, does segments on WHAS-TV's Great Day Live in addition to being editor in chief at Extol magazine, a motivational speaker, and mom to her daughter Olive..
So how did I meet this amazing woman? It was in 2005 when she wrote a Courier-Journal articleabout the local trans community that featured me and Dawn Wilson in it. Both of us moved to Da Ville from other places, so we had that in common along with our mutual love of writing.
2. Impellizzeri's Pizza
One of the Louisville specific food outlets that I got introduced to before I moved there. Love their pizza and especially their breadsticks and the garlic butter you can dip them in.
3. 'Niece and Nephew'
AKA Dr. Kaila Story-Jackson and Jaison Gardiner, the broadcast team at WFPL-FM's. Strange Fruitradio show. In her day job Kaila is the Audre Lorde Chair in Race, Class Gender and Sexuality Studies at the University of Louisville and teaches women and gender and Pan-African studies there.
I've spent more than a few times while I lived there as a panelist in Kaila's class or at other events coordinated by her on the U of L campus when I lived there talking about trans issues from a POC perspective.
Jaison I met as part of the Fairness Campaign crew, and he's involved in Black Lives Matter and other progressive causes.
Jaison is also the one who started calling me Auntie Monica, so I used to call him Nephew in response. When he and Kaila started doing Strange Fruit, she became Niece
4. Indi's
Every city has a local food chain that is unique to it, and in Louisville, that is Indi' s.
There are only three Indi's locations in Da Ville, so that meant I had to drive to get to them since the closest location to my east side Crescent Hill neighborhood was in the West End on Broadway just west of downtown. But the food was worth the trip
It is quintessentially Louisville and quickly became one of my fave places. I loved their monster potato wedges and chicken, and would happily devour their wings.. Their spicy recipe one will definitely make someone from New Orleans happy and they have a wide variety of side dishes
The prices you pay for that food isn't bad either, but they only accept cash for it.
5. Louisville Fencing Center
When Dawn began to get involved in competitive fencing, that's when much of the fencing world entered my life, including Maestro Les Stawicki, the legendary fencing coach who not only was the Polish national and Olympic coach from 1972-1990, but trains the US Paralympic Games fencers.
I got to meet many of the wonderful people connected to LFC and other fencing salles in the Louisville and Kentucky region along with many of the Veteran fencers, referees and others in the USFA Great Lakes Region . It's also how I met Olympian Lee Kiefer and her family. Ken and Angela Hagen, Linda Dunn, Tom Monarch, 'The Baby Vets' AKA the Vet 40 fencers, The Senior Mamas' AKA the Vet 50 fencers and Lou Felty just to name a few.
It also taught me a lesson in first impressions. I didn't think I had an impact on anyone since I was there simply to support my friend, but others disagreed. There was also a junior tournament that was held in Louisville while I was there in which I served as the MC of it. Some of the parents and kids who were in attendance or participated in it still ask about me years later.
When I went to visit LFC, I also got a big hug from Maestro Stawicki ,Tom and everyone who remembered me
6. Edenside Christian Church
I definitely missed 'slllliiiiiiiiding into Edenside' after I left, because it was my open and affirming church home during my time in Da Ville, It was part of the Disciples of Christ denomination, and it was one of the places in which I first started to meet people after I moved there.
I loved its social justice mission, the AIDS services, participating as a worship leader, being part of Bardstown Road Aglow, the jazz concerts and it being a century old. One of the first events I participated in mere days after I moved there was an AIDS Walk
Sadly it closed after 106 years of service to the Highland community, and I couldn't make it up there for the final servicein that building..
7. Rev. Sally McClain
Rev Sally was one of the first people I met after I arrived in Louisville, and you have to love a minter who not only has a gregarious personality, it's combined with a formidable intellect and a wicked sense of humor.
Her male theological counterparts on The Moral Side Of the News show that she was a panelist on found out quickly about that formidable intellect.
I loved the stuffed Cartman doll on her church office bookshelf, and I also love the fact that Rev. Sally's sermons were to the point. She could say in 10 to 15 minutes what would take the average Baptist preacher hours to do.
She's now retired, but is still a panelist on The Moral Side of the News giving the boys fits.
8. Fairness Campaign
That building on Frankfort Avenue which is the home of Louisville and Kentucky's premier TBLGQ organization was the epicenter of my Louisville activism. I did phone banks in it. taught Lobbying 101 to rookie activists, did candidate screenings there and attended many meetings in its walls when I served on the Fairness Campaign board and its C-FAIR PAC board as its secretary
I also was a finalist to become the head of the Fairness Campaign, which unfortunately I didn't get.
The time I spent with Fairness folks was instrumental in me becoming and being a better advocate when I returned home, and still have much love for the Fairness peeps I met there.
9. The Cards vs Cats hatefest
One of the questions I was asked that I deflected with the comment "I like both" until I pointed the moving van south was which one of Kentucky's universities was I a fan of in either the Louisville Cardinals or the Kentucky Wildcats.
The Cards-Cats hatefest is the University of Texas-Texas A&M rivalry on steroids. The schools are only 60 miles apart on I-64 in Louisville and Lexington, play in different conferences (SEC and ACC), but they reflect the culture of their cities and their rabid fan bases.
I used to get a chuckle out of watching peeps on both sides try to repeatedly recruit me to Cats or Cards Nation as they threw shady insults at each other. I had friends in both Cats and Cards Nation, and it was entertaining to me watching their reactions when UK and U of L played each other.
You can bet that no matter what sport they play, the game, especially if it's their annual post-Christmas basketball showdown, will be sold out at either The Yum Center or Rupp Arena and the trash talking will go on until next year's game, at family picnics and other events..
.
10, The drives to nearby cities
One of the benefits of living in Louisville was because of its geographic location on the Ohio River on the Indiana-Kentucky border and sitting at the junction of I-64, I-65 and I-71, I gained the ability to do road trips to nearby cities in the Midwest, South and East Coast from there
Louisville was only an hour from Lexington, 1.5 hours from Indianapolis and Cincinnati, 2 hours from Nashville, 3 hours from Columbus and St Louis, 5 hours from Memphis and Chicago, 6 hours from Atlanta, 7 hours to Charlotte, Cleveland ,and Milwaukee. and 10 hours to Washington DC, Baltimore and Philadelphia
There were more than a few road trips I took with Dawn, Polar and other folks, some of which I talked about on the blog
11. KingFish
Another one of my fave places to eat in Louisville that was unique to the city. It's a seafood restaurant, and I used to love the location on River Road that had views of the Ohio River from its dining room and the barges gliding by as you dined
12. Derby Week
In the runup to the Kentucky Oaks and the Kentucky Derby, there is a multiweek festival chock full of events that is kicked off by the massive Thunder over Louisville fireworks show and a military airshow during the day over the river.
I also like the Kentucky Derby because every few years, it falls on my birthday. It was apropos that the 2002 Derby, the first one I got to witness as a Louisville resident, also fell on my 40th birthday.
In addition to the parades and balls, you had celebrities flying into town for the Oaks and Derby and all the parties and balls hosted by various people and organizations in venues all over Louisville..
One of the major ones happened mere blocks from where I used to live. Priscilla Barnstable Brown (one of the 1970's Doublemint gum twins who were both from Da Ville) hosts a Derby party that draws Hollywood celebrities and local celeb watchers
Even our local TBLGQ community had our own party that used to happen before and during the Derby, but got shifted to the later evening.
13. Crescent Hill
It's the neighborhood I lived in from late 2003 until I moved back home, and I lived on Grinstead Drive across the street from the odious Southern Baptist Theological Seminary.
Besides the negative of waking up and flipping the finger at the transphobic seminary that was outside and across the street from my upstairs bedroom window, I was around the corner from the Crescent Hill Reservoir, the library, all those amazing restaurants, coffeehouses and shops on Frankfort Avenue. I also had some cool neighbors like the Burchfield's. The best part was I was in walking distance of a Walgreen's that sold Blue Bell.
14. Louisville Slugger Field
Louisville's Triple A baseball stadium that was on the river in the shadow of downtown and I-65 and the home of the Louisville Bats, the Cincinnati Reds farm club.
It's named for the Louisville Slugger bat, which is manufactured a few blocks west of the ballpark. It has an amazing museum and tour of the facility in which upon its conclusion you get a mini Slugger bat
But don't take that mini bat in your carryon luggage. It is considered a weapon and WILL get snatched by TSA security at the airport.
Went to a few Bats games while I lived there and did get to see Joey Votto and Aroldis Chapman play there before they headed up I-71 to play for the Reds.
Slugger Field will be the host of this year's (I consider 2017 this year) ACC Baseball tournament that got relocated because of HB 2. Mayor Fischer and the city of Louisville thank you for that and all the bonus tax money they'll get for hosting it, Pat McCrory.
15. Rep. John Yarmuth
My congressman for the remaining time I lived in Da Ville who snatched the seat from Rep. Anne Throwup, Northup (R-KY).
Until 2006, Northup managed to keep her seat in heavily Democratic Louisville by hoodwinking and bamboozling fools at two Black megachurches (St Stephen and Canaan) and several sellout ministers into thinking she was a human rights warrior when that 'F' on her NAACP Congressional Report card said otherwise.
Those hoodwinked Black voters were the difference in many of her wins in the 10 years she managed to hold that centered on Louisville congressional seat.
Yarmuth founded and owned the alternative weekly the Louisville Eccentric Observer, AKA the LEO, and was a relentless critic of Northrup before he ousted her from that congressional seat.
He donates his congressional salary to local liberal progressive organizations, and I had more than a few conversations and positive interactions with him before I came home
16. The Highlands
The first Louisville neighborhood I lived in and loved because it was diverse and like Crescent Hill had a nice mix of shops and businesses. I also loved the fact (but my waistline didn't) I had a Dairy Queen, KFC, Arby's, a 24 hour Mickey D's, Speedway and Buffalo Wild Wings and restaurants in walking distance of the old house.
17. Bardstown Road Aglow
The neighborhood festival along the Bardstown Road corridor in the Highlands that kicks off the Christmas season. It happens the first Saturday of December rain. snow or shine. Businesses, organizations and churches open their doors to the folks walking up and down the road as carolers and vendors handled their business.
What Edenside would do is open our door and offer hot cider, Christmas cookies and other snacks.
DJ Moni spinning Christmas tunes with soul came later.
18. Kizito's Cookies
I got introduced to this delightful treat before I moved there in September 2001, and lived next door for two years to their creator in Ugandan born Elizabeth Kizito.
'The Cookie Lady' as Kizito is known in Da Ville, came to the US in 1975 to attend school, and moved to Louisville in 1978.
In addition to this award winning businesswoman selling African crafts out of her Bardstown Road store that is also the bakery for their wide assortment of baked goods, she sold them at Slugger Field, the St James Art Festival, the Derby Festival and other events around town while wearing a basket full of her delicious treats on her head.
She started the cookie business in 1987, and now 30 years later Kizito's treats are now sold in stores all over Louisville and online.
That reminds me, need to order some more snickerdoodles and chocolate chip ones.
19. University of Louisville and the LGBT Center
While I'm still waiting for that opportunity to be tapped as a keynote speaker for U of L's Pride Week (hint, hint), I did get a few opportunities to be either part of panels or attend events on their campus in the time I lived there.
Got to know Brian Buford, who is the head of the LGBT Center, law professor Sam Marcosson, who I had some interesting discussion with during my time there and actually did a panel with in the wake of the 2008 election. Y'all already know I have much love and respect for Dr Story, and miss the late Dr. Blaine Hudson, who I loved as a historian and who got me up to speed on my Louisville Black history, I also got to witness while I was there U of L take the steps it did to become one of the most LGBTQ freindly campuses in the South and get much deserved recognition for it.
20. The Louisville trans community
Some of you longtime TransGriot readers have seen my posts about my award winning roommate trans leader, and homegirl Dawn Wilson, who was responsible along with Polar for getting me to move there instead of the ATL and is now a human rights commissioner in the city.
She and Polar also took time out of their lives to come to Houston and help me move there, and a contingent of Louisville community trans folks was there when I arrived to help me move into the old Grinstead house in the Cave Hill Cemetery curve and welcome me to the area.
Cave Hill Cemetery BTW, is where Colonel Harlan Sanders, the KFC founder was laid to rest.
But she was just one of the wonderful trans people I got to know once I moved there like Amirage Saling, Alana Montgomery, LynAnne Evans, Erica, Shemiyia O'Bannon-Sweeney, Holly Knight, Cindy Lee and others who crossed my path during my time there.
Joshua Holiday also moved there for a while from New York . There were Sienna meetings I attended from time to time, and a memorable outing to a Halloween Rocky Horror screening weeks after I moved there.
Unfortunately one of the people I met there is no longer with us and is one of the people we memorialized during the 2008 TDOR in Nakhia Williams. The waste of DNA who killed her is now rotting in jail.
21. Halloween On Hillcrest Avenue
There was a cluster of homes on Hillcrest Ave between Frankfort Ave and Brownsboro Road that in the runup to Halloween would go all out in decorating for it. Some of the decorations were political, which thrilled me even more besides my fave house on the street in Dante's Disco Inferno.
It got so popular that LMPD ended up blocking off Hillcrest on the Frankfort Ave and Brownsboro road ends of Hillcrest Avenue to accommodate all the people from around the area who wanted to see as I called it Nightmare on Hillcrest Avenue..
22. The Louisville Presbyterian Theological Seminary
It's interesting to note that the LPTS and SBTS are less than a mile apart distance wise, but light years apart in terms of their acceptance of the humanity and human rights of trans people. "The Good Seminary' as we call LPTS, has been since 2002 the host of the Louisville TDOR events.
I was honored to be the keynote speaker for their inaugural TDOR in 2002 and again in 2003, the first one we held inside the Caldwell Chapel, part of the planning committee for a few of them, and on some Trans 101 panels on the LPTS campus.
23. Horse country
Sometime when we would visit Dawn's relatives in Lexington or were there in the city for various events, we'd detour for a few miles before jumping back on I-64 to see the horse farms in the area.
It was fun not only looking at those farms but occasionally seeing the colts and fillies running through the grass or grazing
24. Keeneland
Since Dawn grew up in Lexington, we would make a trip to Keeneland at the beginning of their fall racing season
The best part of going to Keeneland in the fall was checking out the fall foliage on the trees in the backside curve and people watching.
I used to love Keeneland's announcer. On one of our trips a horse named Scripture stumbled out of the gate as the race started, and he said "Scripture kneels to pray at the start.'"
Turned out that stumble was more serious than it looked when the horse ambulance rolled over there to the starting gate area when the race was completed, and they had to euthanize him later because he broke both his front legs.
In addition to getting to hang out with my chosen family and getting to leave the city for a few hours, occasionally I won enough for dinner at Columbia Steak House after our day at the races.
25. The Comfy Cow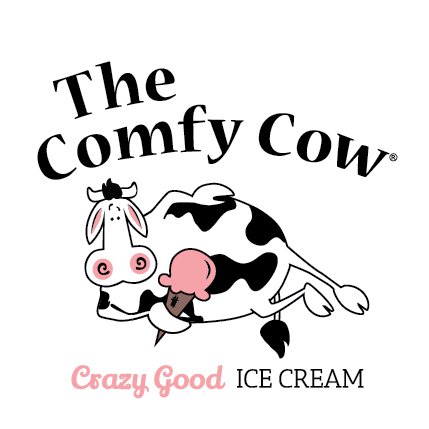 It opened not long after I left Louisville, but the concept for it was percolating in its founders minds while I lived here starting in 2007. I got introduced to their ice cream during my 2014 visit.
The Comfy Cow was another mandatory Louisville foodie stop I had to make when I recently visited the city, and I destroyed some of their salted caramel ice cream.
Yep, they sell it online. I may have to get some as a Christmas present or if somebody is feeling the holiday spirit, they can ship me some.