I call 'The Championships' as they are referred to across The Pond 'Williams'-don because both Serena and Venus have basically turned the All England Club into their personal tennis playground..
The 2019 edition of Wimbledon started with Venus exiting the tournament in the first round after being upset by 15 year old American qualifier Cori 'Coco' Gauff 4-6,4-6 in straight sets. Gauff electrified the tennis world by making a run all the way to the fourth round before being eliminated by Romania's Simona Halep.
That wasn't the end of Venus' time in London. She decided to play mixed doubles with fellow American Frances Tlafoe while Serena an Andy Murray of Great Britain played together.
Venus and Tlafoe made it to the second round of the mixed doubles tourney while Serena and Murray lasted until the third round,
11th seeded Serena had no problems with the qualifier she faced in Italy's Giulia Gatto-Monticone, dispacting her in straight sets 6-2,7-5. That sent her into a second round match with another qualifier in Slovenia's Kaja Juvan
Juvan served notice that this wasn't going to be like Serena's first round match. She took the first set, but Little Sis regrouped and took the next to to punch her ticket to the third round after her 2-6, 6-2. 6-4 win.
Her third round opponent was Germany's Julia Gorges. Williams rolled to a 6-3, 6-4 straight set win over the 18th seeded Gorges to set up her fourth round match with Spain's Carla Suarez Navarro.
Williams handled her tennis business and sent the 30th seeded Suarez Navarro packing after a 6-2, 6-2 straight set win to punch her ticket to the quarterfinals
After Serena won the first set of this quarterfinal, Alison Riske flipped the tennis script and forced a winner take all third set. Little Sis would not be denied, and took this match 6-4, 4-6, 6-3,
Serana faced Barbora Strycova of the Czech Republic in the semis, and wasted no time pinning a 6-1 6-2 straight set 59 minute tennis beatdown on Strycova to punch her ticket to her 11th Wimbledon finals appearance.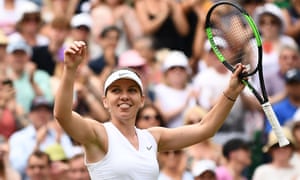 She will take on seventh seeded Simona Halep, who is playing in her first ever Wimbledon final. She has also won just once against Little Sis in ten meetings, but thinks she's ready for the challenge.
If Serena wins on Saturday, she will capture not only her eighth Wimbledon title, but will tie that unrepentant homophobe Margaret Court with her 24th Grand Slam title win.
Good luck Serena! Handle your tennis business